Largemouth Bass Fishing

Tips And Strategies For Catching Bucketmouths
Largemouth bass fishing is arguably the most popular in the sport of freshwater fishing.
And how about catching these bucketmouths? What's there not to love!
These little green fish are hard fighting and exciting to catch. They provide a nice challenge for novice fishermen, and even push the limits of the greatest professional bass anglers world wide.
Largemouth bass are my favorite species of game fish to target. I don't think there's too much of anything that compares to having these predators blow up on my fishing lures and having a battle with.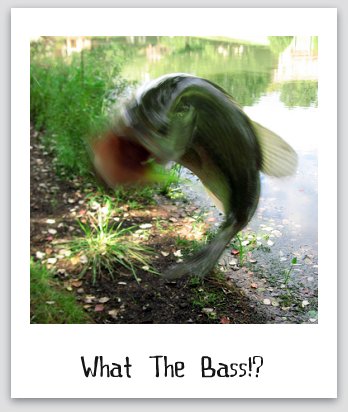 How about you?
The fact that you are here reading this right now most likely means that you enjoy banging it out with these feisty fish too, and/or that you want to learn more about them.
Learning to understand these fish will definitely help increase your chances of catching them... which is what this section is all about - bass fishing for largemouths.
Continue below for valuable bass fishing tips, tried and true techniques, and even some crazy off-the-wall tactics. The black bass are there, you just have to know how to out smart them to catch them.
Fishing For Largemouth Bass
The majority of my angling adventures is largemouth bass fishing. Even when I fish for other species of fish, I can't help but to go after those bucketmouths as well, since I have the two pole stamp on my fishing license.
Anyways, enough about me. Let's get on with the juicy stuff...

Largemouth Bass Tips And Techniques
Making the effort to increase your knowledge of the sport will help you become a much better bass angler. Speak with other skilled anglers to get whatever freshwater fishing tips they might like to share. Check out what they're doing, and learn from them as you incorporate those things into your own style of angling.

---

Applying the proper and most reliable bass fishing techniques should definitely ensure an increase of your catch rate, allowing you to land more and bigger bass.

---

Using two fishing poles from a boat in a river can be rewarding. There are 5 key hot spots to target in just about any river. Do you know what areas of a river are the best to locate bass?

---

Bank Fishing For Big Fat Largemouth Bass
Simply cast lures along the shore lines with your bass set-up, while the other pole sits in a rod holder, rigged to soak or drift bait. Although, that has been known to get a little chaotic at times, in a good way though,... you know, hooking up with fish on both rods at the same time. ;-)

---
When you think that you've pulled out all the bass from that hot spot, or suspect there should be more that just won't strike your power baits, do you move on to another area? Why leave? You know the fish are there! This is when using a little patience for some finesse fishing tactics will help put more bass into the boat.
---
How about those stubborn bass? The ones that aren't really hungry, especially during the post-spawn. Now what? Well, stroking a jig can surprisingly entice some ferocious reaction strikes.
---

Aren't having much luck? Are those darn fish acting really stubborn? Perhaps you may want to test your patience with some dead stick fishing tactics.
Tactics For Catching Big Largemouth Bass
We all want to catch fish every time we hit the water. After all, that's usually the main reason why we go, right?
Unfortunately, it doesn't always pan out that way. It never feels good to end a day with a "goose egg" on your score card, especially in a tournament.
But, it does feel outstanding when those fish are hitting. The next step is to start hauling in those lunkers...

The Hunt For Big Monster Bass


Some days those bass just don't want to hit anything. Other days, you can bust them all day long.
There are days when I would catch so many that I would feel that it was just way too easy and not challenging enough. However, I realize that although I'm catching quite a few average sized ones in the 2 to 4 pound range, the idea is to weed through them to get into those bigger bass.

---
When are the best times to catch big largemouth bass? Spring is an excellent time of year for producing big fish. The hot days of summer are great too. But, your chances of catching more quality sized lunker bucketmouths will greatly increase with some cool night bass fishing adventures.

Largemouth Bass World Records
It's important to remain focused and to stay motivated if you plan to get after those bigger monster-sized bass. The big fish aren't always so easy to come by.
It can be so easy to become impatient and frustrated. Keep your head into the game. Make each cast count for you, like it might be your last.
Just as Mike Iaconelli always enforces for himself and portrays for his motto,... "Never give up!" And if you're lucky enough, your could be a big fish record holder...
---
World Record Largemouth Bass ~ George Perry
THE one and only, the original world record largemouth bass holder, George Perry.

---

Chasing Record Largemouth Bass ~ "Dottie"
Who knows, your next cast just might have a potential state record largemouth bass fishing around right behind your lure, just like the famous "Dottie".
---

World Record Bass ~ Manabu Kurita
The most recent world record bass caught by this challenger, Manabu Kurita. Find out what's up with the controversy surrounding his awesome catch of a lifetime? And why he thinks he can best it with even a bigger bass in the near future.

Largemouth Bass Fishing Tackle
Largemouth bass can be caught on a number of different kind of lures and tackle. Some can be used all year round, while others are better for certain situations.
The most passionate of bass fishermen and women tend to acquire a large collection of bass fishing tackle and equipment. The following will help aid you in selecting the best equipment for your needs and desires...
Bass Fishing Lures
Are you aware that about 90 percent of the tackle on the market is meant to attract the fisherman, and not necessarily the fish? Ultimately, the best lures for bass fishing are the ones that you have the most confidence in. Find out what the highest ranking baits are.

---

Learn how to quickly decide which are the best bass fishing lures to fish with depending on the type of water color clarity. Then tie them on to the appropriate bass rods and you should be set.

Bass Fishing Rods
If you're a serious bass fisherman, then you probably own a specialty bass rod for just about every fishing tactic you employ. See which three rods every bass angler should own, including one that Kevin VanDam helped design.

Largemouth Bass Gear
How much did your monster largemouth bass weigh? Not sure? Check out our reviews for some of the best bass scales you can find.

Bass Fishing Videos and DVD's
Kevin VanDam just doing what he does best,
having fun catching largemouth bass in this video.
Bass Fishing Videos - Check out more of our bass fishing videos. Watch these videos to gain more knowledge with some helpful tips, and some will provide a good laugh, as well as a little entertainment.

---
Bass Fishing DVD Videos - Check out some of the top selling bass videos loaded with great information on tips, tactics and techniques.

---
Bass Fishing Books - Physical hard copy books.

---
Bass Fishing e-Books - Kindle edition electronic downloadable books to read on the go.