About Us At FishingLoft.com...
Freshwater Fishing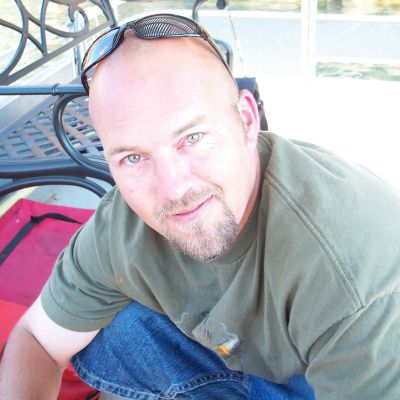 Hey there, what's up! Interested to know a little bit about us here at fishingloft.com?
Well, I'm Jason, the founder of this freshwater fishing website. And yes, that's me there in the picture rigging up my gear.
Although I provide the majority of the material within this site, I am not at it alone. I have a very supportive cast of members who help contribute.
First, allow me to begin by telling you a little more about myself. I suppose I could be considered a guide of sorts because of the assistance I give to others out on the water, including the information and experiences that I provide here on this website.
It really comes down to the fact that I'm just an average person that absolutely enjoys fishing, just like you. I have a strong passion for freshwater fishing, and enjoy sharing my many years of experience and knowledge of fishing with others to help them to be successful out on the water
Our Fishing Experience
I've been fishing ever since I was a kid, yet maybe just a little more these days than I had the opportunity given for back then. My father had taken me, and sometimes I would go with any one of my uncles or some friends. Throughout many of my adult years though, for a while I was fishing for about four to five days a week, and sometimes every single day.
It doesn't matter much if it's rain or shine. I just love to fish. Regardless of what's going on, I still attempt to get out on the water at least once or twice every week or two. When I'm not fishing, I'm preparing to fish one way or another, and sharing my experiences, or dreaming about fishing and catching the "one."
Where We Fish
I live in the central valley of California, USA. I'm lucky enough to live just within a mile or two from multiple access points of the California Delta waterways.
The California Delta is one of the top fisheries in the nation. There are many fishing tourney's around here, and they even hold professional bass tournaments that launch out right here from downtown Stockton, just a few minutes from my house.
The California Delta at the Downtown Stockton Marina
As you may have guessed, I do most of my fishing in the river systems, sloughs and streams of the California Delta. And I also do quite a bit of freshwater fishing at as many lakes and reservoirs as I can get to, as well as some nearby ponds.
Our Favorite Fish To Catch
My most favored species to target are largemouth bass. I practice catch and release when fishing for largemouths - I just enjoy the pure sport of battling those feisty gamefish.

My youngest boy showing off a largemouth bass along the Calaveras River
Other species such as striped bass, trout and crappie, give up a good fight too, and provide excellent table fare. But I still release the females though, so that they can reproduce.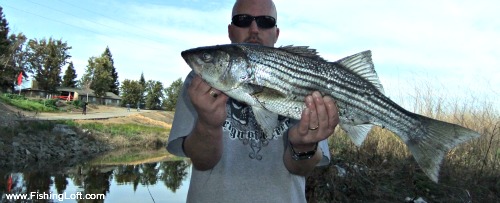 Another day fishing the Calaveras River behind our house by the University of Pacific
And of course I enjoy switching it up to fish for other species, which includes spotted bass, smallmouth bass, catfish, bluegill, crappie, perch, salmon, sturgeon and carp.

5 lb., 12.1 oz. channel catfish - 1st Place Winner for the kids age group in the Annual Catfish Derby at Oak Grove Park in Stockton, CA
Remember to take a child fishing. It can make a difference in their life. My kids ask me all of the time to take them fishing, and I happily oblige. Best of luck out on the water and happy freshwater fishing!

Our Secret
With the help of SBI!, I decided to start this website in order to pass on the knowledge that we have gained from our experiences, in the effort to assist you in some way. The information and advice about freshwater fishing that we provide here is completely free for you to benefit from, and to help you with making good decisions towards becoming a better fisherman while having fun out on the water.

My wife and I have two handsome boys. Of course we all go fishing together quite often, as they are my best fishing buddies.
My other fishing partners are usually with any of my 3 brothers, my cousins, or some friends of mine.
So, you may see their contributions around this site from time to time. Not just about their knowledge of fishing, but also with their inspirations with cooking fish, too.

Create Your Own Fishing Or Hobby Website
Have you ever thought about building your own website?
Building this site has been a great experience for me. It allows me to share my passion for fishing with others who love the sport and I earn income from it too, which really helps in a downed economy.
Building a site is easier than you may think, especially when you use Solo Build It.
Or if you already have a blog on WordPress that is not as successful as you'd like it to be, then you may want to check out Solo Build It for WP, which is basically Solo Build It! modified for WordPress.
Learn more about how you can build your own website.
Discover why my freshwater fishing website is one of the highest ranking in the world.
Help us create an amazing acronym for LOFT, and dive deeper into more history about starting our website.
2019: How we are celebrating 10 years live on the internet.

Tight Lines!
From the Team at The FishingLoft.com Website
Freshwater Fishing
Jason