Smallmouth Bass Fishing

Tips, Techniques, Tactics & Tricks
Smallmouth bass fishing is certainly that of both fear and excitement...
The fish engulfs your lure, you set the hook, off he goes, your rod doubles over, you feel a couple head shakes, then in an instant, the water's surface explodes. The big bronzeback gets seriously vertical, thrashes it's entire body into a convulsive-like state, then disappears back into the water...
Catching smallmouth bass definitely provides that pure fun-filled adrenaline rush. We bass fishermen just hope that we do everything right so that the relentless, hard fighting smallie doesn't shake the hook.
Smallmouths may not max out as big as largemouth bass, but they sure fight like a run away freight train! What they lack in size, they make up for it in many other aspects. Many anglers feel that they are the hardest fighting fish to battle with in freshwater fishing, pound for pound.

Smallmouth Bass Fishing Tips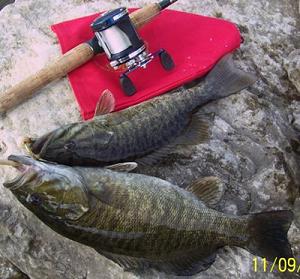 Smallmouth Bass from Barkley Dam, Kentucky
Do you want to know how to catch smallmouth bass successfully on a more consistant basis?
It might seem tricky at times. And it may seem automatic other times. Perhaps luck can be a factor too. But, it's always better to play the game with the odds in your favor.
It's important to learn and understand how and what smallmouth bass do in order to locate them so that you can catch them.
Some key factors include their preferred living habitats, behavior patterns during the different seasons throughout the year, and their feeding habits and what they eat.
Perfecting the basics of fishing for smallmouth bass will give you greater results in the long run. Before you know it, it will feel like second nature. So, instead of thinking about what to do in different situations, you should be able to just react. By assessing the conditions and what the situation calls for, you'll have a very good idea for pulling out the best choice of smallmouth bass lures, and then smack it to 'em.
Smallmouth Bass Fishing Tactics
Have you ever planned on fishing for smallmouth bass in a river, but the current was just a little too strong for ideal conditions? Instead of packing it up, you can get your freshwater fishing fix in by exploring some of the streams and creeks which feed into the main river systems. Here are some ideas on creek fishing for smallmouth bass.
---
If you're a bit advanced and looking for a little challenge, test your wits and skills fishing for smallmouth bass on ultra-light tackle.
It's nothing new, but it's a fun way to break out of your comfort zone, especially with using 2 pound test.
Are you skilled and patient enough to handle a little challenge like this?

Seasonal Fishing For Smallmouth Bass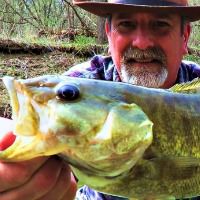 Winter has passed and spring has come. The weather has begun to clear up, so now it's an excellent opportunity to wet your fishing line at your favorite lake for some spring time fishing for smallmouth bass.
Need a bass recipe? Have any that you would like to share?
Check out these tasty bass recipes. Enjoy!