Top Three Techniques For
Spring Smallmouth Bass Fishing
It's that's time of year again. Get sprung off of some spring smallmouth bass fishing!
Springtime season is here, or approaching, which makes for a great time to head out to your favorite smallmouth bass fishing lake and catch some awesome bronzebacks.
We've put together three of our top smallmouth bass spring fishing techniques to help you trick more smallies.
Have you wondered if you should fish high, low or on the bottom during the months of spring? Well, we've got you covered.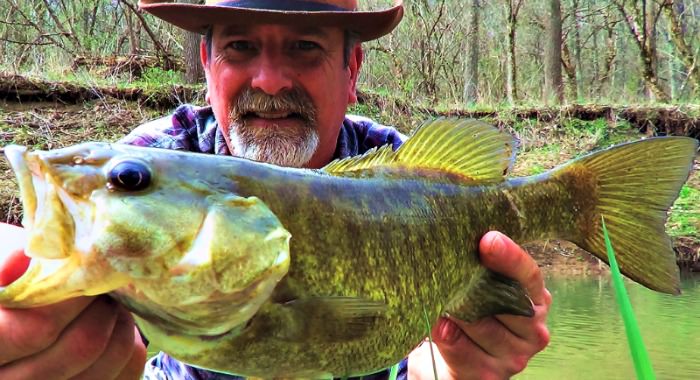 Smallmouth Bass caught in the spring time around mid April.
Spring Smallmouth Bass Fishing Tactics
Top Water Fishing For Smallmouth Bass In The Spring
Top water lures are a nice choice for smallmouth bass in the spring. A few good choices could range from lures like pencil poppers, prop baits, mouse baits, chug bugs, cricket hoppers, grass hoppers, spooks, torpedo baits, etc.
Around this time of year, I especially enjoy using cigar style baits to walk-the-dog with. My preferred color choices are lighter colors such as white shad or better yet, translucent varieties.
Here is how I prefer to walk the dog for smallies in the spring. Use longer and deliberate sweeping motions from side to side, more so than you would normally. And you should vary your cadences too. But for the most part, keep your sweeps long, gentle and smooth.

Sub-Surface Fishing For Smallmouth Bass In The Spring
Another great way to locate smallies is by fishing with search baits, also known as pause baits. Mid range crankbaits and especially jerkbaits are fun to play with. They are easy to use and produce really well.
Once you've cast out, crank the handle a few times to get the lure down into the strike zone. After you have allowed the jerkbait to pause, give it a quick little twitch, then pause again.
The pause and twitch is crucial, especially in colder water. Vary the length of your pauses and the way you twitch the bait until a bronzeback smacks your bait. This will help you to determine about how long to allow the jerkbait to pause for.
Bottom Fishing For Smallmouth Bass In The Spring
Fishing the bottom for smallmouth bass in the spring is a tactic not to be overlooked. One of the smallmouths most favorite snacks to feed on are crayfish. Also during the spring time, gobies will slowly swim throughout the bottom of the water column, of course that is where they are known to habitat, such as in the popular waters like the Great Lakes.

Jigs and tubes are a perfect match for enticing bronzebacks to strike. The key is to fish them slow. Drag them slowly along the bottom, and give them a twitch and a hop every now and then. There almost really isn't such a thing as going too slow for this fishing technique, especially when the water temperatures are cold.

More Tips On Smallmouth Bass Fishing In Spring
These spring smallmouth bass fishing techniques are proven to work and can produce some nice quality big smallmouth bass. Try them out and see for yourself. Remember, the colder the water, then the slower you may need to go. You might also like to try dead stick fishing if the bite seems to be off. Good luck freshwater fishing!