Bluegill Fishing For Beginner And Advanced Fishermen, Women and Children
Is there any kind of freshwater fishing easier than bluegill fishing?
Bluegills are perfect for beginner anglers just getting started and learning how to fish. They also provide an awesome time for the more experienced fisherman and the hard core bluegill anglers.
These spunky fighting panfish are one of, if not the easiest freshwater species to catch. This is one of the main reasons that they are so great for kids and beginners.
Since using simple and small profile light tackle is pretty much all that's required, it allows for that much more ease on everybody involved, i.e., the student and the teacher.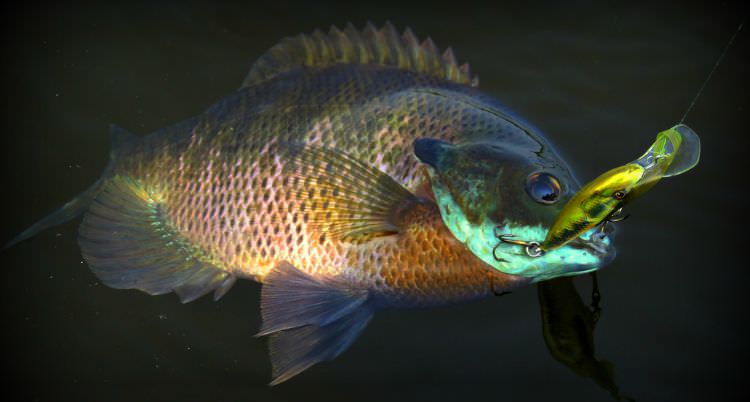 Simple Basic Techniques Of Fishing For Bluegill
Bluegill fishing can be as simple as casting out a small piece of bait under a bobber, waiting for the bobber to disappear under the water, and then reeling in the fish. Of course it helps to get to the right areas that will most likely often hold fish. Either way, bluegills can just as easily be caught from a boat, from the shoreline banks on land, and off of docks.
"Fishing For" versus "Catching" Bluegill
As much fun and exciting it is to catch one bluegill after another, there is actually more to it than just that. Well, at least to some serious die hard anglers.
Many experienced bluegill anglers enjoy taking another approach to fishing for bluegill.
Once you find and catch one or two bluegills, there will usually be a few more in that same area. How do you know? Well, because bluegill school up tight together. However, most of these fish will be of the smaller size. So this is where it gets tricky locating the big ones!

Experience Fishing For Bluegills
An experienced anglers' challenge is often with wanting to catch those monster sized bull slabs. Locating those bigger bruisers requires a bit more patience, skill and knowledge.
A few things to consider would include:
All of which help play a role in the variety of techniques used to seek out the heavy hitters. Don't worry, it's much less complicated that it sounds though.
Seasons To Fish For Bluegills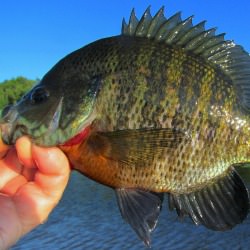 Bluegills are fun to catch all year long.
The nice weather temperatures of the summer makes for excellent times to hit the water in search of those bull bluegills. The warming water during the months of June and July will trigger bluegills into their spawning stages.
Learn what tactics to employ for the summer fishing for bluegills.
Reap The Rewards Of Catching Bluegills
I always have a blast when I'm fishing for bluegill, especially when I'm with my kids. They get absolutely excited when they are catching any fish, but the non stop action of busting one after another from a school of bluegill keeps them thoroughly entertained throughout the day.
If you're looking to have an easy and fun filled day of fishing, I recommend you give a shot at some bluegill. I'm certain that you'll be satisfied.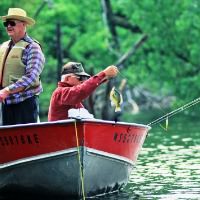 Would you like to have a look at a few specified tips before you set out on the water?
Here are some quick bluegill fishing tips that should help prepare you for your upcoming freshwater fishing adventures.