Fishing Magazines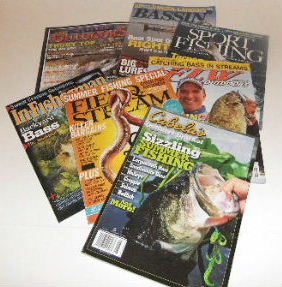 Magazine subscriptions provide
excellent fishing tips and techniques.
Fishing magazines are one of the very best ways to stay updated with all the essentials within the fishing world.
They are packed with current angling news, big fish records, recent events, pro and amateur tournaments, special programs, the latest trends, new tackle, equipment, gear, interviews, moon phases, best times and places to fish, helpful tips and techniques.
All of these things is what helps every serious fisherman to becoming the best angler possible. It's important to absorb as much knowledge as we can about the sport if we want to have greater success and exceed our limits, goals and expectations on the water.
Unless you are lucky, or already know it all (I'm still waiting to meet an angler that truly knows it all and can win every single fishing tournament that they participate in), then you and I both know that catching fish isn't something set in stone. But, it does help tremendously to feed off of the experts.

Fishing Magazine Articles - Tips From The Experts
The advice provided by the experts and professionals who fish on a daily basis should be considered priceless. They have sacrificed so much to help our future generations of anglers. They have put in countless hours being away from their home and family.
After all, they didn't get to where they're at today by being nonchalant and all willy nilly about it. And neither should we.
Some of my favorite magazine articles that I read are from professional tournament fishermen, legendary hall of fame anglers, and the new, up-and-coming guys and gals entering the circuit. These include guys like Hank Parker, Kevin VanDam, Mike Iaconelli, Wally Marshall, Jeremy Wade, and many more.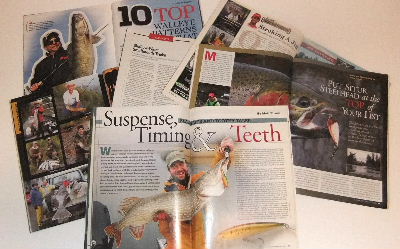 The pros talk about some of their best kept secrets and one-of-a-kind tricks and tactics that have helped them catch more and bigger fish over the years. If those tips, techniques and tactics have proven to work for them, well, I want to know about it too.

Fishing Magazine Subscriptions
Magazine subscriptions for fishing enthusiasts and fanatics like myself have continued to provide a ton of excellent information to help fine tune the craft. I am very passionate about freshwater fishing and try to learn as much as possible about how to catch fish. Reading magazines are just one of the greatest ways to do that.
Some magazines target a single species of fish, while others cater to more general audiences of anglers. There are magazines all about freshwater fishing, saltwater and surf fishing, fly fishing, bass, crappie, trout, catfish, and more.
A few of the best known and top selling magazines for fishing include Field & Stream, In-Fisherman, FLW Outdoors, Bassin', Bass Master, Fishing Facts, Cabela's Outfitter Journal, Fishing Facts, Crappie World (*no longer in circulation), and American Angler.

Magazine Subscription Categories For Fishing
Are you ready to buy and subscribe to your favorite fishing magazines?
Bass Magazines - BassMaster, Bassin', Bass Angler
Crappie World Magazine - No longer in circulation, but you can still find past publications packed with invaluable information.
Fly Angling Magazines - American Angler, Fly Tyer, Fly Fishing In Salt Waters, Eastern Fly Fishing, Northern Fly Fishing, Southwest Fly Fishing
Freshwater Angling Magazines - Field & Stream, Fishing Facts, Cabela's Outfitter Journal, Crappie World
Saltwater Sport Magazines - Sport Fishing, Salt Water Sportsman, Fly Fishing In Salt Waters, Marlin
Fishing And Hunting Magazines - Outdoor Life, Texas Parks & Wildlife, Colorado Outdoors, Gray's Sporting Journal, Virginia Wildlife, Midwest Outdoors, Texas Fish & Game, Iowa Outdoors, Outdoor Oklahoma, Cabela's, Field & Stream
---
Freshwater fishing books, fish recipe cook books, fishing and outdoors magazine reviews.
We did the research for you to help save you some time. We've found some great deals for you...
Best Selling Fishing Magazines
(Most popular fishing, hunting, and firearms magazines based on sales. Updated hourly.)