Fresh Fish Recipes
Free, Quick And Easy

We have a few of our favorite freshwater fish recipes listed here that have been compiled by us, and even more homemade fish dishes that our readers have been generous enough to send in for you to enjoy.
Many people are intimidated of fish because of bad experiences with cooking it.
Are you one of those people? Not to worry.
By following some common rules, you'll soon be enjoying those favorite fish recipes savored by millions of other people...
Generally, fish take little time to cook, so you can count on a quick preparation. A good rule of thumb is that fish take about 10 minutes to cook per 1 inch of thickness.
Most fish recipes are interchangeable:
It's better to know the proper properties of fish if you are going to substitute one for the other. Fish are grouped into lean, moderately oily, and oily.
A common rule of thumb is that white fleshed fish is lean, and dark or pink flesh fish are oily.
These recipes can also be used and switched out for any species of relative freshwater fish, brackish fish and saltwater fish.
LEAN FISH ~ Less Than 2 Percent Fat
Lean fish will go nicely with buttery sauces or other liquids. It may be cooked using any method. However, when baking or broiling, the fish should be basted with a little butter, oil or a basting sauce to help prevent it from drying out.

MODERATELY OILY FISH ~ 2% to 6% Fat
Moderately oily fish are particularly well suited for baking or broiling.
OILY FISH ~ Over 6% Fat
You can use citrus juices, vinegar, or wine when cooking oily fish if you prefer a milder taste.

Fish Sauces, Stocks, Marinades and Batters
---
Click on your choice of the freshwater fish above to find your favorite recipes and enjoy. If you are planning on frying, broiling, or grilling your catch, it's all here. We continue to add more recipes as fast and as often as we are able to.
---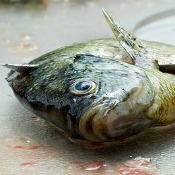 Check out the fish cleaning section to learn all about how to clean fish. It contains a lot of interesting tips and techniques about cleaning, preparing, dressing, and filleting your fish before you cook it
---
Fish is one of the most versatile foods that you can prepare. Their mild flavors and firm textures can be matched with a wide variety of flavors and cooking methods. Why not have a little fun in the kitchen while you experiment with any of these...
---
See some of our other Top Picks for Seafood Recipe Cookbooks here.