Classic Homestyle Catfish Recipes With Fresh Restaurant Taste
We've got you covered with a handful of good old fashioned homestyle catfish recipes that have a restaurant like style flare and a desired fresh taste.
Whether you're buying your own fillets from the grocery store, or you've caught and cleaned your own catfish fillets, it becomes time to reward yourself and others to a nice little feast.

So let's fire up the barbecue grill station or turn the burners on your stove, because it's about to go down!
Here's what you'll find below...
Two versions of Cajun Catfish:

Blackened cajun catfish fillets.

We also provide a lighter seasoned version for this recipe as well.
Two versions of Grilled Catfish:
Smoked in tin foil.

BBQ flavored.
Cajun Style Blackened Catfish
Blackened Catfish With Dirty Rice And Roll
Ingredients:
4 catfish fillets
3 tsp. lemon juice
cooking spray
2 tsp. blackened or cajun seasoning
Directions:
Sprinkle fillets with 2 teaspoons lemon juice. Lightly coat the fish with cooking spray. Season with the cajun seasoning. Spray the catfish fillets once more.
In a large skillet over medium-high heat, add 2 fillets, seasoned side down. Cook the fish for 3 minutes. Then reduce heat to medium and cook the catfish fillets for 3 more minutes until the fish begins to flake when tested with a fork.
Serve with tarter sauce and rice if desired, or a simple side and sauce of your choice.
Here's a light version for Cajun Catfish.
Grilled Catfish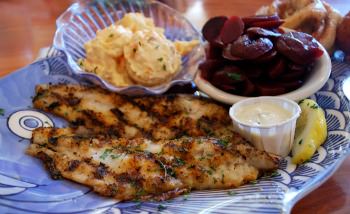 Perfectly grilled catfish fillets.
Ingredients:
3 pounds of catfish
¾ cup ranch dressing
chopped dill
lemon wedges
Directions:
Place the catfish directly on the grill. (You may also opt to place them on a sheet of heavy duty tin foil, or to use a fish grilling rack
.) Cover the fillets evenly with ranch dressing. Grill over medium-hot coals for 20-30 minutes, and/or until the fish flakes easily with a fork. Sprinkle with dill and lemon wedges.
Here's a BBQ style recipe for Grilled Catfish.
---
Fried Catfish Fillets - A.K.A. Fish And Chips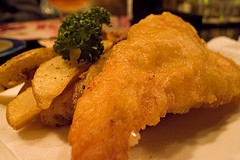 Check out this homestyle recipe for Southern Fried Catfish.
This is basically a fish and chips mash up. It's simply easy and fun to make with the kids in mind. Along with a side of french fries and their favorite dipping sauces, they might even say that it tastes just like chicken.
See some of our other Top Picks for Seafood Recipe Cookbooks here.