Southern Fried Catfish Recipe
Fish and Chips
Here is an old time classic southern fried catfish recipe using fresh fish fillets that have been battered and deep fried to a perfect golden brown color... Crispy on the outside, and moist and flaky on the inside.

It's great as snack by itself, or as a meal when combined with your choice of a side such as steak fries or regular french fries. Add a dipping sauce such as tartar sauce, or drizzled with malt vinegar and we are off to the races.
I'm salivating with anticipation.

Southern Fried Catfish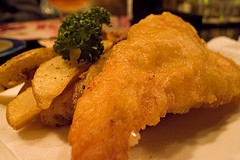 Southern Fried Catfish With Steak Fries
Ingredients:

2 lbs catfish fillets
1 cup cornmeal
¼ tsp pepper
corn oil
Directions:
Cut the catfish fillets into pieces or keep whole. Coat the fish fillets in cornmeal and season with pepper mixture.
Heat about 1 inch of oil in a frying pan to about 350°. Add a few pieces of the fish, without overcrowding the pan, and cook the fish for about 2-3 minutes on each side until golden brown. Drain to pat dry onto paper towels and serve.
See some of our other Top Picks for Seafood Recipe Cookbooks here.