The Freshwater Fishing Blog
Skip down directly to the blog to see our most recent pages.
This Freshwater Fishing Blog is tighter than four pound test line while fighting a six pound bass around a brush pile.  It...
lets you know whenever any new pages appear on the website
keeps you up-to-date with other postings or news
points out some of our super-special past adventures that you might otherwise miss
To subscribe to our fishing blog (no e-mail necessary), click on the orange RSS button and then paste the URL into your RSS reader.


For more information about what RSS and blogging is all about, click here. Once you start, you'll be amazed with what RSS can do for you.
Become Part Of Our Fishing Blog!
Want to become a part of our Freshwater Fishing Blog? It's easy...
There are many more ways for you to become part of our Fishing Club.
Your submission becomes part of this blog, which will show up at the top of our list below, and as a permanent part of FishingLoft.com for all others to see! And, we may possibly tweet out your page to Twitter and maybe add it to our Instagram and Facebook fan page!
Enjoy... and get hooked into our fishing blog !
Here Are FishingLoft.com's New Pages...
Sep 26, 2019
Crappie Fishing Poles - Top Crappie Rods To Own Within Your Budget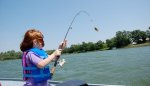 When looking for the best crappie fishing poles, high quality equipment doesn't mean it should be expensive. Shopping tips for anglers buying light weight panfishing tackle.
Continue reading "Crappie Fishing Poles - Top Crappie Rods To Own Within Your Budget"
Exclusive Fishing Alerts For Email Members Only
Do you think you may have missed something? Well, we don't always put everything into our fishing blog.
We keep some of our juicy stuff reserved exclusively for our free fishing newsletter subscribers. Sign up today and stay updated even more!