Grilled Catfish Recipe For Outstanding Delicious Tasting Barbecue Smoke Flavor
This easy grilled catfish recipe can be cooked on the bbq - either on a gas grill or a charcoal pit for a great smokey flavor.
If you don't own a grill, or just can't access one due to weather conditions, it can also be tossed in the oven to bake. Some people like to use liquid smoke to provide that wood smoked flavor to their food. Be careful with it though, because just a tiny dash will go quite a long ways for adding just the right amount of the smokey flavor.

Either way you prefer to do it, and if you love barbecuing as much as I do, the natural earthy tones used to cook this recipe for grilled catfish are sure to please the best of your taste buds.
Barbecued Grilled Catfish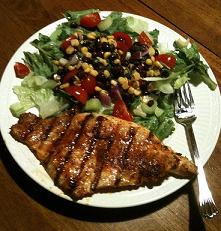 Grilled Catfish with Corn and Black Bean Salsa Salad
Ingredients:

4 catfish fillets
3 garlic cloves, minced
2 tablespoon grated lemon zest
1 tablespoon chopped fresh thyme
½ teaspoon salt
½ teaspoon crushed red pepper flakes
extra virgin olive oil
Directions:
Rub all of the ingredients onto both sides of the catfish fillets and drizzle them with the extra virgin olive oil. Place them in a non-metalic container, cover and place in the refrigerator to marinate for up to 15 minutes.
In the meantime, fire up the grill to heat the charcoal briquettes to a medium-high temperature. Or preheat a gas bbq grill or the oven to 450°F.
Take the catfish fillets out of the refrigerator, remove them from the container, and place them directly on the grill. (You may also opt to place the fish on a layer or two of tin foil and wrap firmly, or even use a fish grill rack.) Cook the fish with the lid of the bbq pit covered for about 8 minutes or until done. Serve immediately.
Check out a few tips and techniques for grilling fish here.
See some of our other Top Picks for Seafood Recipe Cookbooks here.