Kick Butt Mouth Watering
Buffalo Fish Recipes
I have been noticing quite a few people asking for buffalo fish recipes. Not only have people asked me about cooking buffalo fish, but I have read through numerous questions and answers regarding recipes for buffalo fish.
It cracks me up in amazement how many ridiculous answers there are from all of the inexperienced fish related cooks out there. Okay, I'll ease up to give the benefit of doubt,... as I can see how this can be so easily  misinterpreted.
First of all, a buffalo fish is a freshwater species of fish. It's not  just a fish cooked like a buffalo chicken wing with a special type of hot sauce and blue cheese or ranch dressing. A buffalo fish is just that, a freakin' fish! For those who still don't get it, a buffalo fish is quite often mistaken for the bottom feeding carp.
Just in case you are actually looking for a fish dish cooked buffalo wing style, we have also included one for you too. Hey, I love buffalo wings just as much as the next person :-)

Cheesy Baked Buffalo Fish Recipe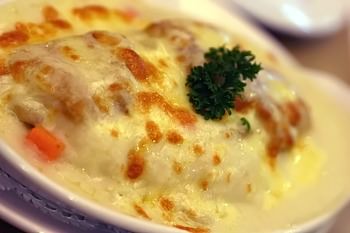 Ingredients:
1 pound buffalo fish fillets
½ cup shredded four cheese blend
2 tablespoons sour cream
2 tablespoons butter, melted
2 teaspoons tarragon
salt and pepper
Cooking Directions For The Cheesy Buffalo Fish:
Pre-heat the oven to 350°F. Meanwhile, mix together the cheese and sour cream, then set aside. Coat the fillets with the melted butter on both sides. Season with tarragon, and salt and pepper to taste.
Set the fillets in a 9"x13" baking dish and bake for 10 minutes. Top with the cheese mixture then continue to bake for about 12 more minutes, or until the fish is done when it easily flakes with a fork.
Firecracker Buffalo Wing Style Buffalo Fish
This recipe is for those of you who are actually looking for a buffalo wing recipe. To steer away from the same repetitive buffalo chicken wing recipes that nearly every household and restaurant uses, I came up with variance to offer you a slightly new look and feel for your taste buds. This recipe can also be used for nearly all types of white fleshed fish with little to no bony structure, such as cod or catfish.
Ingredients:
buffalo fish, fillets, cut into strips, 2-3 pounds
½ cup flour
1 package Lawry's Hot Taco Seasoning
⅓ cup butter
⅓ cup hot pepper sauce
¼ teaspoon salt
frying oil
Cooking Directions For Spicy Buffalo Fish:

In a sauce pan over medium heat, add butter, hot pepper sauce, and a pinch of salt. Heat until butter is completely melted and stirred together, then set aside.
Meanwhile, preheat cooking oil to 375°F in a deep fryer or large frying pan. Mix together the package of hot taco seasoning with the flour in a bowl or plastic zip loc bag. Add the buffalo fish strips and coat evenly. Cook the fish 3-4 minutes per side until it's crispy golden brown. Drain on paper towels. Toss the fish strips together with the hot pepper sauce and serve.
See some of our other Top Picks for Seafood Recipe Cookbooks here.
We would like to hear from you. If you have any of your own buffalo fish recipes, or have tried any of these recipes for buffalo fish listed above, let us know what you think. Your feedback counts.