Elegant and Simple
Freshwater Drum Recipes
Turn your freshwater fishing catch into a delightful meal with these freshwater drum recipes.
Surprise the family and friends with these fun and easy fish dishes.
Here's a couple of the best of our favorite drum fish recipe ideas pulled straight out of our kitchen to yours.
Broiled Drum w/ Cilantro Peppercorn Sauce
Pan Fried Drum Fish Fillets
Drum roll please...

Broiled Drum with Cilantro and Peppercorn Sauce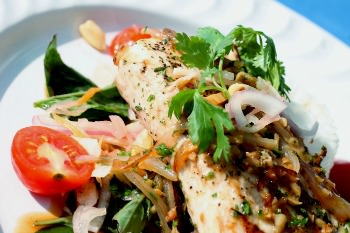 Ingredients:

4 drum fillets
2 tablespoons of white wine
2 tablespoons Dijon mustard
1 cup of cilantro leaves
½ teaspoon green peppercorns
Instructions and Cooking Directions for Broiled Drum:

Position your oven rack about 4 inches from the heat source. Then preheat the broiler.
Put all of the ingredients together into a blender, except for the fish fillets, and mix until well blended.
Place the drum fish fillets in a baking pan and pour the peppercorn wine sauce over them. Broil for about 10 minutes or until done by testing for flakiness with a fork.
Pan Fried Drum Fish Fillets

Ingredients:

4 drum fish fillets
1 ½ cups flour
1 cup milk
1 egg, beaten
seafood seasoning rub
vegetable oil
Cooking Instructions:

Pour the flour into a flat bottom bowl, pan or a container with a few dashes of your favorite seafood seasoning. In another container, add the milk and egg, and mix until well blended. Season the fillets with seafood seasoning.
Heat up about ¼ inch of the cooking oil in a frying pan over medium heat.
Coat each fillet in the flour, then dip each one into the milk mixture, dip them back into the flour once more, and then add them to the frying pan.
Fry the fillets for about 2 to 3 minutes per side until golden brown. Remove the fillets from the pan and set them on paper towels to drain the excess oil. Serve immediately with your desired sauce and sides.

---
Check out the books below for more recipe ideas like these freshwater drum recipes above.
See some of our other Top Picks for Seafood Recipe Cookbooks here.