Sauces For Fish

Delicious Tasting Fish Sauce Recipes
Send your taste buds into overdrive and whip up these sauces for fish.
These are just a few more of our favorite fish sauces.
Why share these recipes for fish sauces with you? Why not...
We don't feel like it's right to hoard these wonderful sauces and salsas all to ourselves. We feel that these are too good for that. So we just had to share them with you.
The following is 7 of our most favorite homemade and restaurant style sauces, with a couple links near the bottom of the page for butter sauces and tartar sauces...

Honey Mango Sauce For Fish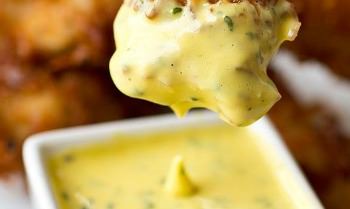 Ingredients:
1 mango, peeled and chopped
2-3 tablespoons of honey
¼ cup orange juice
salt and pepper to taste if desired
Directions:
Add all of the ingredients into a blender. Cover and blend for about 20 seconds or until it's all smooth.
You can serve this sweet tasting sauce as a fun dip for something such as southern fried catfish nuggets.
Cilantro Lemon Sauce for Grilling Fish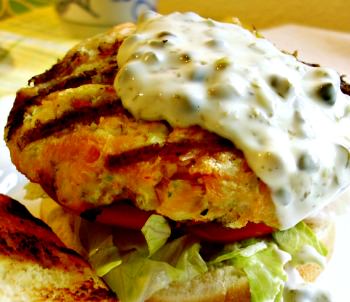 Ingredients:
1 tablespoon lemon juice
2 tablespoons minced red onion
2 tablespoons capers, drained
½ cup mayonnaise
¼ cup chopped cilantro
Directions:
Combine all of the ingredients in a small bowl and mix together well. Serve by brushing the sauce directly on top of freshly grilled fish.
By the way, this sauce is actually a version of a tartar sauce.

Berry Medley Red Wine Sauce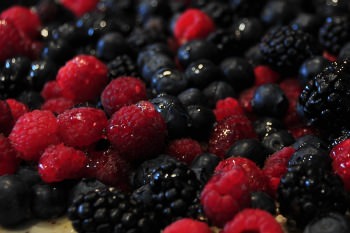 Ingredients:

1 ½ cups red wine
1 package (12 ounces) frozen berries
1 cup sugar
1 tablespoon cornstarch
Directions:
Combine the sugar and cornstarch into a saucepan and mix well. Stir in the red wine. Bring to a boil for about 5 minutes while occasionally stirring until the sauce begins to thicken. Add the berries and boil for an additional 5 minutes. Serve the warm sauce over baked, fried or grilled fish.
Black Peppered Horseradish Sauce
Ingredients:
2 tablespoons horseradish sauce
1½ cup sour cream
2 tablespoons Dijon mustard
½ teaspoon of freshly ground black pepper
Directions:
Simply combine all of the ingredients together and mix very well, then serve.
This can also double as a quick fish marinade or a rub for fish like salmon. It's especially good for grilling and barbecuing fish steaks and fillets.
Maple Lemon Glaze Sauce For Fish Steaks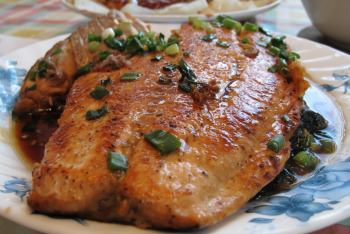 Ingredients:

4 tablespoons maple syrup
4 tablespoons lemon juice
2 tablespoons cider vinegar
2 tablespoons canola oil
a dash of salt and pepper to taste if desired
Directions:

Combine all of the ingredients in a large plastic zip-loc freezer bag.
Use this mixture as a marinade before cooking the fish, and brush on as a glaze while cooking it. This is a great compliment for thick cuts of fish steaks being cooked near direct heat like in the broiler.
You can also substitute orange juice for the lemon juice for a sweeter citrus kick. And/or substitute soy sauce for the cider vinegar.

Homemade Hollandaise Sauce For Grilled Fish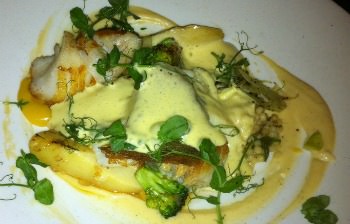 Ingredients:
4 tablespoons cold water
4 egg yolks
2 tablespoon lemon juice
1 cup unsalted butter

dash of salt to taste
Directions:

Melt the butter in the microwave or on the stove over medium-low heat.
In a small saucepan, add the water and egg yolks. Whisk the two together until the egg yolks become foamy. Heat over medium heat until it starts to thicken, constantly stirring. Gradually whisk in some of the butter a little at a time until the mixture becomes thick. (Reserve the rest of the left over butter for something else.) Whisk the lemon juice and salt into the mixture.
Serve this by drizzling over pan seared or grilled fish.
Grilled Peach and Habanero Salsa
This is one of my absolute favorite sauces for fish. I really love everything about it...
You get the sweet goodness from the grilled peaches, a little tanginess from the lime, the fiery kick out of the habanero, and I'm a big fan of cilantro especially in homemade salsas.
All of the ingredients just seem to balance out very well. I think that you'll love this fish salsa recipe just as much as I do.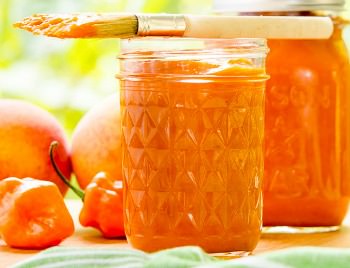 Ingredients:
4 peaches, peeled and cut in halves
2 tablespoons chopped cilantro
1 habanero pepper, seeded and chopped
⅓ red onion, sliced
1 tablespoon lime juice
1 teaspoon sugar
1 teaspoon orange zest
dash of salt to taste
olive oil or non-stick cooking spray
Directions:

Lightly coat the peaches and onions with the non stick cooking spray. Over a medium hot pre-heated grill, place the peaches and sliced red onions on the grill rack. Allow them to cook for about 3 minutes on each side. Remove them from the grill, cool, then chop into quarter inch chunks. Combine all of the ingredients together into a bowl and toss well.
Since you already have the grill turned on, you might as well grill up your fish. This salsa goes great with white flaky fish steaks like grilled halibut or striped bass.
Tip: To turn this into a barbecue sauce as seen in the picture, simply puree in a blender. You may want to add a dash of apple cider vinegar and some ketchup to your desired taste and consistency.
Also add more habanero if you can handle the heat.

---
Go ahead and kick it up a notch and try out any or all of those awesome sauces for fish right above.
Didn't find a sauce here that intrigued or inspired you? No worries. We have a bunch more on our website specific to...
See some of our other Top Picks for Seafood Recipe Cookbooks here.