Striped Bass Recipes
That Are Delicious, Quick & Easy
Are you in need of fresh striped bass recipes?
Looking for different or new ideas to cook up some tasty rockfish?
Check out these striper recipes to try the next time you happen to come up on some fresh seabass! Perhaps, that time is right now, huh?

Whether it's store bought from the fish market, or freshly caught from the river, these easy and delicious recipes for striped bass are for the whole family to enjoy!
Lemon Peppered Creamy Baked Striped Bass
Recipe courtesy by my friend Joy Vignola from Stockton, California, USA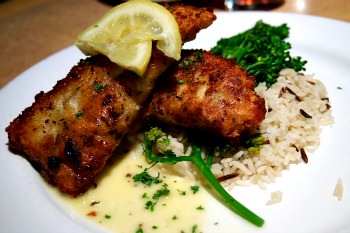 Ingredients:
2 lbs. striped bass (about 6 slices)
1 can cream of celery soup
½ can milk
½ onion
2 stalks celery (green tops and all)
1 lemon
lemon pepper
paprika
Directions:
Chop the onion and celery. Fry in 1 tbs margarine. Add soup and milk, stir until smooth and comes to a boil.
Wash fish and layer in a 3 quart baking dish. Put a slice of lemon on each piece of fish. Squeeze a ½ lemon over the fish. Pour soup mixture over fish and sprinkle with lemon pepper and paprika. Bake for 1 hour at 350°F.

Baked Striped Bass Fillets
Ingredients:
2 striped bass fillets (1 lb each)
2 tbs unsalted butter
salt and pepper
4 egg whites
2 tbs chopped parsley
1 tbs chopped green peppercorns
1 tbs Dijon mustard
3 tbs breadcrumbs
½ cup mustard sauce
Directions:
Preheat oven to 375°. Spread butter into a baking pan. Place the fish in the pan and season with salt and pepper. Bake for about 12 minutes or until the fish is opaque.
In the meantime, beat egg whites until stiff but not dry. Fold in parsley, peppercorns, and mustard. Spread mixture over the fish, about 1 inch thick layer, and sprinkle with the breadcrumbs. Bake for 6 more minutes. Serve with mustard sauce.
Blackened Striped Bass Fillet Strips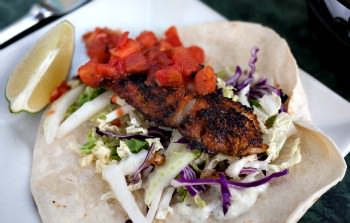 Ingredients:
1½ pound of skinless striped bass fillets
½ cup unsalted butter, melted
blackened seasoning (Cajun seasonings)
Directions:

Heat large (cast iron) skillet over high heat. Dip striped bass fillets in melted butter. Generously season both sides of fish. Place fish fillets in skillet and pour a small amount of the remaining butter on top of the fillets. Cook 3 to 4 minutes, or until fish just begins to turn black and crusty, but not charred and burnt. Turn fillets over and cook 3 to 4 minutes more, or until the underside of fish turns crusty. Do not overcook. Serve immediately.
Tip: This cajun seasoned fish recipe also tastes great on the bbq grill.

More Fish Recipes

Want to see more striped bass recipes?
Have a look at this pan seared striped bass fillets with citrus recipe.
See some of our other Top Picks for Seafood Recipe Cookbooks here.