A Pan Seared Striped Bass Recipe Of Striper Fillets With Orange And Lime Slices

I cooked up this striped bass recipe completely on the fly. It was real simple and easy to make, and tasted absolutely delicious.
I had taken my two boys freshwater fishing and we caught a nice striper. We took a few pictures and thought about releasing the fish back into the water, but decided on keeping it to eat.
Rather than making a special trip to the grocery store for extra ingredients, I just used what was already available to me from the kitchen at my home. And this striped bass fish dish is what I conjured up.

Striped Bass With Orange-Lime Infusion
Ingredients:
Striped bass fillets
Milk
Olive oil
Butter
Orange
Lime
Salt
Pepper
How To Make This Striped Bass Recipe:
Step 1: Clean and fillet the fish. It's up to you if you want to leave the skin on the striper fillets or cut it off. The skin does add flavor and texture. However, I chose to cut the skin away for this. If you do decide to leave the skin on, be sure to make a few relief slices to help ensure that it doesn't bind while it is cooking. You should also cut the fillets into serving size pieces at this time.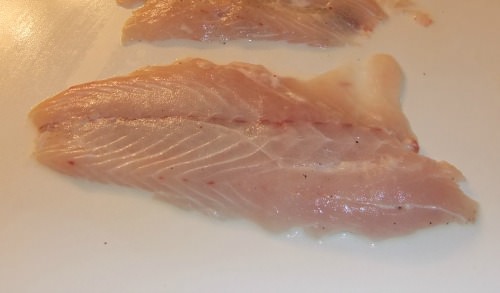 Cleaned Striped Bass Fillets Ready To Be Cooked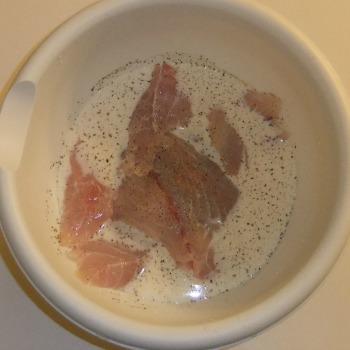 Step 2: You can skip this step for marinating the fish fillets if you want. Striped bass normally have a nice sweet taste even without a marinade. But I decided to marinade the fillets while I did a quick clean up of the area I had cleaned and filleted the striped bass at. It also gave me more time to think about how I wanted to cook the fish.
For marinating fish, it's usually best to marinate in something non-metallic, like a glass pan or a plastic zip loc bag.
I put the fillets in a bowl and poured in just enough milk to cover them, and seasoned with salt and freshly ground black pepper. I used milk because it helps to get rid of gamey tastes found in most lean fish such as largemouth bass. The milk also adds a little more sweetness too.
Step 3: Pre-heat about a tablespoon of extra virgin olive oil in a large frying pan over medium-high heat. Add a teaspoon of unsalted butter or margarine. Once the butter melts and begins to brown, add the striper fillet. Cook the fish fillets for about 3 to 4 minutes on each side until its nice and golden brown.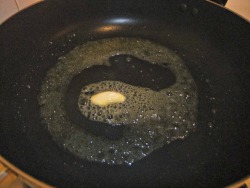 Pre-heating Olive Oil and Butter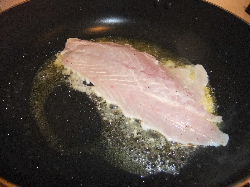 Pan Searing the Striper Fillets
Step 4: Transfer to serving plates and garnish with your choice of toppings and sides. Serve immediately while it's still hot.
As the fish was cooking I thought about what I wanted to top it off with. First, I grabbed a lime that I had left over from some mojitos that I recently made. Then I walked outside in my backyard and plucked a fresh orange straight from my fruit tree. I sliced them up, garnished, and voila... the pan seared citrus striped bass recipe.
This is a healthy dish that the whole family can enjoy eating, and was fun and quick to put together. For more ideas cooking stripers, check out these cool recipes for striped bass.

See some of our other Top Picks for Seafood Recipe Cookbooks here.