Flavorful Tasting
Muskellunge Recipes
Ready to sink your teeth into some tasty muskies? We've got you covered!

Here are some muskellunge recipes for you fire up.
These recipes for muskie are pretty easy and simple to prepare, and the best thing is that these musky fish dishes are so mouth watering delicious.
Buttery-Lime Basted Muskie
Pecan Nut Crusted Musky Fillets
Buttery-Lime Basted Muskie with Spicy Tropical Sauce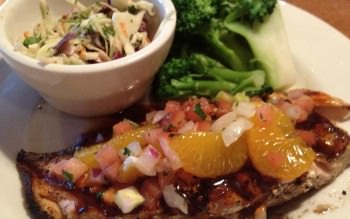 Ingredients:

The Muskie and Baste
muskie fillets, 2 pounds
4 tablespoons lime juice
3 tablespoons butter
Muskie Spicy Orange-Pineapple Tropical Sauce
⅔ cup orange marmalade
½ cup pineapple juice
2 teaspoons horseradish
¼ teaspoon garlic powder
¼ teaspoon coriander
hot sauce
Directions:
Pre-heat the oven to 350°F.
Meanwhile, in a saucepan, combine all of the sauce ingredients together and cook over a medium heat for 5 minutes. Turn the heat down low to keep warm.
Add the butter to a small bowl and heat in the microwave just until melted. Add the lime juice and mix together. Place the muskie fillets in baking dish and brush on the lime and butter mixture.
Bake the fish for 10 minutes, turn the fish over, then bake for an additional 10 minutes or until it easily flakes with a fork. Baste the fish every 3-5 minutes during cooking. When done, transfer the fish to serving plates and top with the tropical sauce.
Pecan Nut Crusted Musky Fillets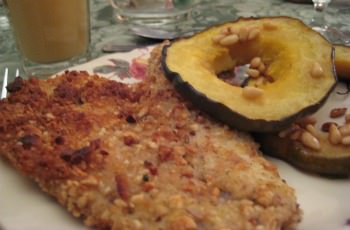 Pecan Crusted Fillets with Acorn Squash and Pine Nuts
Ingredients:

musky fillets, 2 pounds, cut into serving sized sections
1 cup pecans
¼ cup melted butter
¼ cup white wine
1 lemon, zested and juiced
1 small shallot, minced
¼ cup peanut oil
salt and pepper
Get Nutty On The Musky:
Finely mince the pecans in a food processor or mince chop them with a knife. In a large bowl or platter, combine the pecans, shallot, butter, white wine, lemon zest and juice, and a dash of salt and pepper to taste, mix well. Roll the musky fillets in the pecan mixture, lightly pressing the mixture to help work it to stick.
Heat the peanut oil in a large skillet over medium high heat. Add the fillets and cook for about 3-4 minutes on each side until golden brown, or until done. Serve with a butter dipping sauce or one of which you desire.
Helpful Tips For Cooking Muskellunge
Most freshwater fishing anglers practice catch and release with the bigger musky over 10 pounds. Even so, musky are quite elongated, therefore, you may need to cut them into sections to be able to fit the fish in your cooking vessels. Also, you can substitute these recipes for other freshwater fish such as pike. Keep in mind that they are a little bony as well.
We would like to hear from you. If you have any of your own muskellunge recipes, or have tried any of these recipes for musky, let us know what you think. We value your feedback.
See some of our other Top Picks for Seafood Recipe Cookbooks here.