FishingLoft Is Celebrating Their 10 Year Anniversary Being On The Internet

We are extremely proud and very excited to announce that 2019 marks 10 years that we have been running this freshwater fishing website.
That's right, we've been on this interweb game for an entire decade helping thousands of fisher people become better anglers.

Let's see if I can kick this off without boring you too much. Who knows, you just might happen to relate, and it could help you out in some way, just as well.
How It All Began For A Fishing Enthusiast

I'll try to make this quick and simple. Here's a little bit of background about my journey and how I ended up creating this fishing website 10 years ago...

Life Changing Events Impact Motivation
Graduated high school in 1994. Went straight to college. Then the United States Marine Corps. Started tile installation in the year 2000. Got married in 2004. And we had two boys around that same time.

We wanted to expose our kiddos to various outdoor activities. Fishing is just one of those hobbies that we happen to partake in throughout the entire year. As you most likely already know, catching fish is a blast!
By 2008, the economy had both middle fingers high up in the sky, screaming FTW! So I was out of work, collecting unemployment. But I was still doing okay.

My Luck Was About to Change
I began pursuing ways to make money online. I dabbled in a few get-rich-quick schemes that never amounted to jack squat.
Then one day I stumbled across a review about SBI! (Site Build It! - now called Solo Build It! - Just a real quick summary, they teach you everything that you need to know about how to make a legitimate successful website, and how to monetize it to make money.)
After some extensive research, and finding nothing but great things and positive reviews about SBI!, I was sold.
After contemplating about it for a few days, I hit that purchase button. Of course I was nervous. But their money back guarantee put me so much at ease. Especially with their just take it for a "risk-free test drive" option.

I watched their 10-day Action Guide videos, read through their extra instructional guides, brainstormed keywords, and chose a niche about a topic that I was really passionate about (freshwater fishing).
Then I was ready to pick a domain name.
I registered fishingloft.com as the domain name on June 2, 2009. Created and built the homepage, and then we were live. Yeeaaahhh!!!

Our Website Transformations Over The Years
Our website looked very different from what it does now. I'm sure you already know, things on the world wide web weren't as advanced as they are now.
I'm going to take you through a little journey back into time from what our fishing website has looked like throughout the past 10 years.
2009: Presenting The World With A New Fishing Website

This first image is the earliest screenshot from the Wayback Machine website that they were able to capture on 9/2/2009. (*Not a typo. As stated above, I first registered the domain name over 10 years ago on 6/2/2009.)

However, this is not how it initially looked from the very beginning. Although this was still somewhat embarrassing for me, this actually looked a lot better than what I started out with.
Note that I don't even have an image in the header... that's so whack!
But, I added a little bit of CSS coding behind the scenes to put a colored background and a shadow underneath the content page to make it appear as if it was kind of floating.

(SBI! also provides CSS and HTML coding tips and techniques. Check out their all-inclusive tools here.)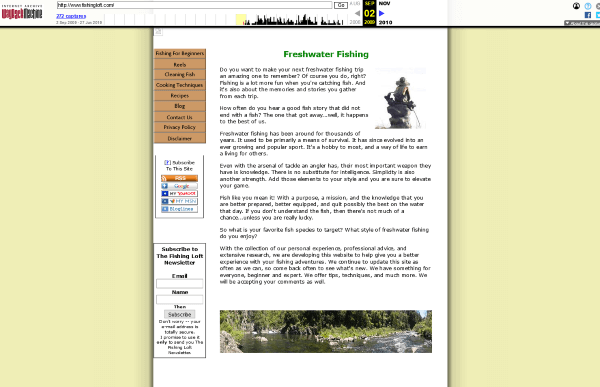 Screenshot of FishingLoft.com in 2009
2010: New Template + Great Content = More Traffic

The website was gaining traction. Yet, there was just one thing that I was constantly dealing with. The overall look and feel of the website.
So, I buckled down and learned enough css coding to upload my own html, and created a 3 column website. This template style was quite popular. And I felt like I was able to have more control on how I was able to design the website.
Here's a snapshot taken from 2011.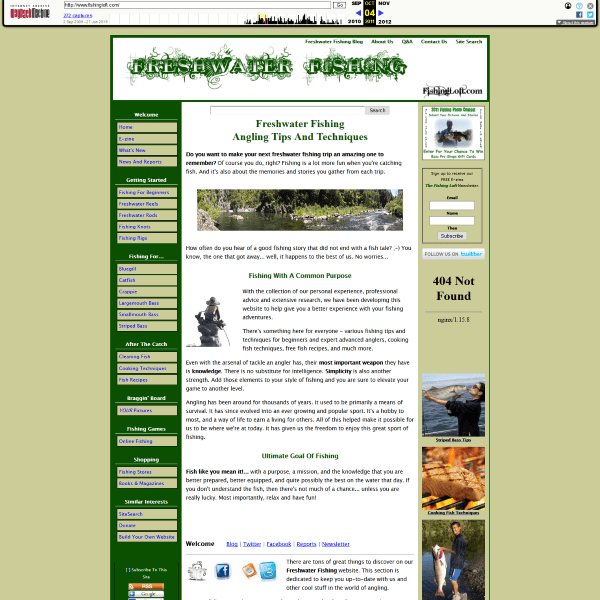 Screenshot of FishingLoft.com in 2011
2012: Custom Paint Job

A couple years later I added a little more pizazz.
I switched to more of a gradient color scheme.
The background went from dark to light green.

The navigation headlines in the left hand nav column went from a light green to white.

Added a navigational link section at the top of the page.

And implemented multiple complimentary styled sections of boxes throughout the website.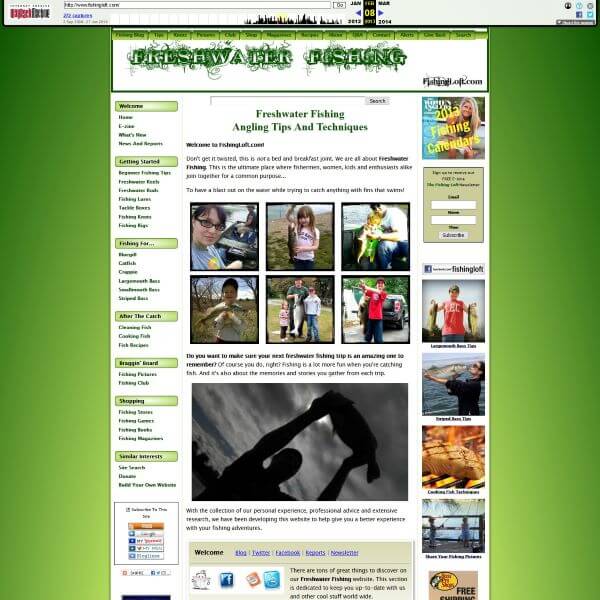 Screenshot of FishingLoft.com in 2013
2015 To Present Day In 2019: Going Mobile Friendly

By this time, internet users were drastically shifting more and more towards mobile devices, like smart phones, tablets, ipads, etc.
And to be honest, I was beyond that "I'm over it" stage, and was really tired of working around with uploading my own html web pages. Speaking for myself, it just felt more like work, rather than what normally should be fun while creating and building a website that a person is passionate about.
So, it became the perfect opportunity to kill two birds with one stone...
I snagged up a brand new responsive mobile-friendly template, and got back to using SBI!'s website builder.
However, this meant a little more work upfront to transition back over. But well worth it!

I had to rebuild each and every single page. But it wasn't really all that bad. Copy and paste. (I just simply had to copy the files I had stored on my computer and paste them into my new admin-view site builder pages.)
The transition also gave me the opportunity to edit and revamp a ton of outdated pages with stale and old content.
Aside from a few minor tweaks here and there along the way over the last few years, we are currently operating on the new template (the same one that you are actually viewing this web page on right now at this very moment, and as shown in the screenshot image below, minus some of the ads).
As you can see, I designed and created a new header. And I added a scrollable drop-down navigational menu at the top (it appears as a hamburger menu button on mobile devices).
This template is:
Responsive - meaning that it can adjust to various screen sizes.
Mobile friendly - meaning that it has been calibrated to perform in a specific manner compatible for mobile devices for ease of use.
By the way, SBI! has come quite a long ways with much improved technological advancements since those old school dinosaur age days as well. They have a boat load of ready-to-use website templates to choose from. The templates are mobile friendly, responsive, and fully customizable to suit your needs and desires.
That pretty much sums of the design changes that we have gone through over the last 10 years.
What The Future Holds For FishingLoft.com
It has been an amazing run!
We've met a lot of great people over the years. From sponsors, communicating with new visitors, fishermen submitting their fishing pictures and stories, anglers showing their appreciation with donations, and our loyal newsletter subscribers.

Without your support, this website might not even be possible.
I just want to say thank you to each and every one of you. Whether it's your first time here. Or you've bookmarked and/or subscribed to one of our outlets and have been constantly checking in on our updates...
Thank You!!!
I appreciate every single one of you!
At this very moment, I am peeling the cap back on an ice cold brewskie and hoisting it up to the sky, and giving all of you a virtual salud...
CHEERS!!! Here's to another 10 more years, and then some!
Thank you again as we celebrate our ten year freshwater fishing website anniversary!

Best of luck to you on all of your fishing adventures.
Now, let's get out there and get after it!!!

Wait, before you go....
If you like this page and our website, please share our website with your friends and family on your social media channels.
And don't forget to like, follow, subscribe, and all that jazz on our social media pages, too.