The New World Record Bass Caught By Manabu Kurita... Should It Stand?
Could this possibly be the next world record bass?
Will this huge largemouth bass stand as a tie, or be disqualified?
Although it's under review and investigation, it's receiving a lot of attention and scrutiny.
What do you think about it all?
*Special Note: Since first writing this story, this massive largemouh bass caught by Manabu Kurita has been officially recognized and credited as the new world record holder. Well, actually considered a tie.
Continue reading to find out about Kurita's fishing trip of a lifetime of how he managed to catch the beast, and the ensuing drama surrounding the whole situation.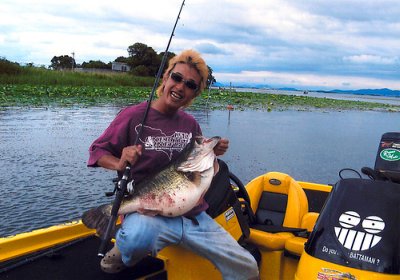 Manabu Kurita with his record holding largemouth bass.
How Kurita Caught THE Bass Of A Lifetime

On the Thursday of July 2, 2009, Manabu Kurita, age 32, of Aichi, Japan set out on Lake Biwa for another day of freshwater fishing for some big largemouth bass. Lake Biwa is an ancient reservoir northeast of Kyoto. It's Japan's largest and oldest lake which dates back about 4 million years ago. At about 70 miles long, the lake covers 259 square miles.
At around 11:30 in the morning, he observed something of sorts like a fish swimming or splashing around underneath some bridge pilings. So he maneuvered and positioned his boat near the commotion.
Manabu was using a Deps Sidewinder, The Dom Driver F/E Rod, with Toray Super Hard Strong 25 pound test line.
20lb Toray fishing line is available here.
He had it baited up with a live bluegill on a 5/0 Fina Power Finesse bait hook.
The Fina 5/0 big bass corresponding offset hooks can be found here.
He cast out to the north side of the bridge piling, twitched it a couple times, and the behemoth largemouth bass ate it. On his first cast at it and he reels in a monster of a fish, the potential world record bass.
The beasty largemouth bass was weighed on metric scales that converts to a whopping 22-pounds, 4.97-ounces, rounded up to 22 lbs 5 oz. George Perry's world record largemouth bass comes in at 22 lbs. and 4 oz. The ruling states that it must weigh 2 ounces more to be considered a new record. Therefore, they shall share the record together as a tie if  it holds up.
Manabu is sponsored by Deps tackle out of Japan and they showed up immediately for an interview. They want to claim full exclusive rights so they can sell DVD's and such which will probably be manufactured in Japanese.

Manabu Kurita holding his giant largemouth bass.
Speculations Surround Manabu Kurita's Largemouth Bass

There are pictures and video of the caught fish which he submitted to the IGFA (International Game Fish Association) and the IGFA. After some speculations, the IGFA approved Manabu Kurati's world record bass submission and sent a letter of support to the IGFA. However, there are some concerned issues involving the catch in which they are considering disqualifying him for.
Under the Biwako Oohashi Bridge, where he was fishing at, there is a sign that reads "Do Not Stop." The rules state that a fish cannot come from a no fishing zone. However, this was cleared up, as he was not tied to the pilings or anchored down in the restricted area, which would otherwise be classified as illegal. And, although he was not in the restricted area, they are claiming that he cast into the restricted area, which is not a restricted fishing area anyway.
Largemouth bass are not a native species in Japan. The Florida strain bass have been stocked and their government considers them to be an invasive species. They do not allow bass and bluegill to be released back into the water alive. So they are claiming that he broke the law by tossing out the live bluegill, although it was baited on his hook. But apparently, Manabu Kurita is registered to release bass and bluegill.
Manabu Kurita proudly hoisting up his prized record largemouth bass.
Why Manabu Kurita Doesn't Care About World Record Certification

This is where it stands for now at the moment. So we'll just have to wait and see what the IGFA decides to do. Regardless of whether or not he is officially credited with a tie for the world record bass, nobody can take away the fact that Mr. Kurita successfully caught and landed one of the most enormous largemouth bass of all time.
Kurita doesn't seem too worried about it. He says that he has seen much bigger fish around there and is convinced to challenge himself with catching an even larger bass in the future.
A tie with George Perry!? Look at it this way... it only takes half an ounce to win a bass tournament. So why shouldn't Manabu Kurita stand alone as the world record bass holder?
***UPDATE: Since the initial writing of this article, it's has become certified. Kurita is officially a share holder with George Perry for the world record, tied at 22 pounds and 4 ounces, according to the IGFA.
Manabu Kurita  -   10.12 kgs
George Perry     -   10.0924 kgs
Some of the above mentioned is credited to the findings of
James Hall, an editor for Bassmaster Magazine.

The video below is part 1 of 2 videos in which James Hall interviews Kurita about what took place for him with catching his Biwa behemouth giant. He states at the end of the video that he's seen bigger fish in that water.