Bass Fishing Books
Top Picks And The Best Selling
Do you enjoy fishing for bass? Great! We have a list of our favorite bass fishing books recommended for you to read. These books about bass fishing are from a highly trusted resource and are written by experienced experts and professional bass anglers.
These awesome bass books not only cover the infamous largemouth bass, but you may also find valuable information about other freshwater fishing species of bass that may range from smallmouth bass, spotted bass, red eye bass, Florida strain bass, peacock bass.
If it's a freshwater bass fish, then you should be able to read up on it in one or another of these bassin books.
We have researched and reviewed quite a few fishing books about bass, and found the following bassin' books to be the most sought after by consumers.
You should be able to find interesting and compelling stories about the life of a bass fishermen, and their inspirational journey to get where they are at now. There are also plenty of tips, tricks and techniques, and a few of their best kept secrets that they may use for catching more and bigger fish.
Best Bass Fishing Books From The Pros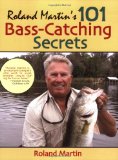 Roland Martin's
Bass-Catching Secrets
Roland Martin's 101 Bass-Catching Secrets
Roland Martin is one of the most decorated pro bass tournament winners of all time. In this book, he talks about why bass strike, using baits and lures, and a variety of tactics and techniques for fishing different types of cover.
This book is loaded with helpful information and some cool inspiring stories, along with around 250 photos. Not only will this guide allow you to learn how to land more bass, it also reveals an inside look of professional bass fishing.
---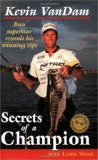 Kevin VanDam
Pro Bassmaster AOY
Secrets of a Champion: Bass Superstar Reveals His Winning Tips
Pro bass angler Kevin VanDam has been a dominate force in the bass angling scene. He is arguably the best bass fisherman of all time in the entire world.
VanDam discusses his methods and approach for picking and customizing lures, where he fishes them, tricks and techniques he uses to induce stubborn bass to bite, and strategies for fishing when the going gets tough. The book also recounts his step-by-step attack towards winning the BASS Masters Classic.
---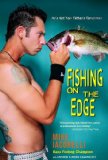 Mike Iaconelli
Fishing On The Edge
Fishing on the Edge
Mike Iaconelli is another one of the greatest pro bass anglers of the world. He is known to be over the top and dramatic out on the water, especially when he hoists those big monster mama largemouth bass into his boat. Then he'll go "Ike" on ya'!
Fishing On The Edge is a fascinating book depicting the life of Iaconelli from the time he got hooked on bass fishing as a young 2 year old boy in the city of New Jersey, and the journey he took to get to the greatness of where he is at today. You'll learn about his deep passion and dedication to "never give up", as well as an inside look of professional bass fishing, along with his respect for the sport and the business side of it.
Recommended Best Bass Fishing Books
The Bass Angler's Almanac: More Than 650 Tips and Tactics
The Bass Angler's Almanac is loaded with information that covers largemouth bass, smallmouth bass and spotted bass. There are many excellent detailed illustrations and pictures to help explain different techniques for catching more bass fish.
There are tons of helpful tips and tactics from front to back. And, it provides a scientific approach with a biological stand point on largemouth and smallmouth bass to help you better understand how and why bass live, think and react.
---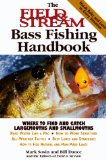 Field & Stream
Bass Fishing Handbook
The Field & Stream Bass-Fishing Handbook
The Field & Stream Bass Fishing Handbook provides useful information and details about catching black bass. It has tips and techniques for fishing and catching bass in bodies of water of rivers, lakes, ponds and creeks. There are also quite a few illustrated drawings and photographs to help show important factors and features.
---
Big Book of Bass: Strategies for Catching Largemouth and Smallmouth (The Freshwater Angler)
The Big Book Of Bass goes in-depth to help you understand everything that you would need to know to catch smallmouth and largemouth bass. You'll get information about bass biology and their habitats, a laid out presentation for proper tackle; such as rods, reels, line, lures, boats; and techniques for fishing with a variety of lures in different conditions, and much more. Oh yeah, there are more than an astonishing 1,000 photos.
---
Bass Wisdom
Bass Wisdom is written by Homer Circle, who has over 50 years of bass fishing experience under his belt. You'll be able to find information about fishing with a dozen of the deadliest types of bass lures, sounds and colors that attract bass to bite, year long tactics for all four seasons, fly fishing, trolling, as well as some of the secrets the pros use.
---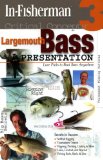 In-Fisherman
Critical Concepts 3
Critical Concepts 3: Largemouth Bass Presentation
Critical Concepts 3 is written by the cream of the crop of freshwater fishing enthusiasts by the staff of In-Fisherman. They are highly experienced anglers that always know what they are talking about. When it comes to fishing and helping others learn to catch more fish, they are top notch.
In this book about largemouth bass fishing presentations, you should expect to find a ton of very helpful tips and techniques for provoking those ever so elusive bucketmouths to strike an attack on your lures.
---
Do you want to learn more about fishing for and catching those big monster bass? Here's quite a few Books about catching Big Bass
for you to select from.
Along with these World Record Bass Books
just for a little extra motivation.