Bass Scales To Accurately Weigh Your Fish
There are many bass scales to choose from. But, which fish scale would be the best suited for you?
Have you been freshwater fishing and catching fish, but aren't exactly sure of their weight? Or just looking to upgrade to a new or better scale?
Well, we'll help to weigh the options.
It's a bit crazy how often I see pictures of proud anglers holding their largemouth bass and claim that it's a big lunker around 10 pounds, when it obviously doesn't even come close to being a 5 pounder.
Yeah, fish tales are fun to hear,... sometimes. But c'mon, keep it real! If they only had weighed it on a fish scale to absolutely remove any doubt... at least for themselves, let alone the obvious and for the trained eye.
What better way to get the feel of guesstimating the size and weight of a nice quality fish than to actually get some experience with using a bass fishing scale. Then after a while, it almost becomes like second nature when pulling your prized trophies out of the water.
Top 5 Rated Bass Scales According To Customers
1.) Mango Spot LCD Electronic Balance Digital Fishing Hook Hanging Scale 50kg, 10g
Highly accurate 110 pound fish scale
Memory for heaviest weight
Weigh multiple fish at the same time
Automatic calculation with digital readout
Stainless steel hook
Powered by 2 AAA batteries
Multi-purpose scale for fishing and home personal use
2.) Esky 110lb/50kg LCD Digital Scale with Measuring Tape
Blue LCD back light display
Multi functional for outdoors, kitchen, home use
Measuring tape, tare zero, auto off, data lock
2 AAA batteries (included)
3.) Weston 20 Pound Spring and Hook Scale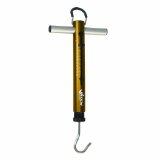 Weston 20 Pound Spring
and Hook Scale
Anodized Aluminum body to prevent rusting
Stainless Steel hook and spring
Non slip grip
Has a sliding indicator to accurately mark weight
4.) American Weigh SR-5 Digital Hanging Fish Scale

American Weigh SR-5
Digital Hanging Fish Scale
Nicely back lit LCD screen for optimal reading measurements
Displays readings for pounds, ounces and kilograms
Has a retracting handle and hook slips away behind scale for easy compact storage and portability
Comes with 2 AAA batteries
Backed by a prestigious 10 year warranty
5.) Boga Grip 130 30lb Scale
Awesome Big Game Lip Grip for those Heavy Hitters
Stainless steel components for corrosion resistance, which adheres great for saltwater and freshwater fishing applications
Displays readings for pounds, ounces and kilograms
Has a superb locking jaw action
More Information About Our Top Bass Scales
These are our top 5 picks for bass scales. The Boga Grip is a highly regarded favorite of mine. Of course there are a variety of other Boga grips, as well as other types of fishing scales, that are nicely suited for weighing in on the competition.
Hopefully, after you've put the smack down on those big feisty bass, you'll be able to hold truthfully to yourself when you decide to tell your peers about how much that hard fighting bass weighed before you released that son of a gun back into the water to live and be caught another day. =)