Deep Frying Fish
Is A Very Popular Method
Deep frying fish is a great way to cook fish to a tasty, beautiful golden brown, and perfect crispy crust.
This deep fried method of cooking fish is the most common technique used to make fish-n-chips.
We will be going over the varieties of oils you can use, how much oil to add to your cooking vessel, recommended oil temperatures, types of fish that work best, and a simple mini tutorial guide for preparing and frying your fish.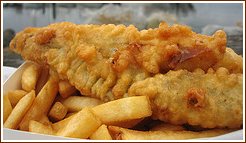 Deep Fried Fish and Chips
Deep Frying Oils For Fish
This method involves cooking fish in a total submersion of fat. The fat is usually oils of canola, corn, cottonseed, peanut, pure olive, safflower, sunflower, or solid vegetable shortening. The choice of a good oil is up to you according to your taste. Peanut oil is very nice choice for deep frying fish.

Deep Frying Temperature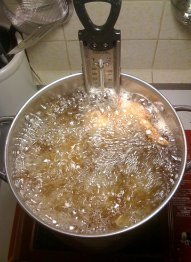 Other than a deep fryer, a
deep pan or wok can be used
Other than a deep fryer, a deep pan or a wok can be used instead. Fill up the cooking vessel to about 1/3 to 1/2 full of oil, but no more than 2/3 full so as to avoid boil-overs. Heat the cooking oil until it reaches the smoke point of 375°.
It's important to maintain the cooking oil at the correct temperature. If the temp drops down below 350°, then the fish will begin to absorb the cooking oil and it will become greasy and soggy. If it rises above 375°, the fish will overcook on the outside without cooking the inside.
A deep frying thermometer is a great way to help maintain and adjust the temperature of the oil.

Deep Frying Methods For Fish
Best Types Of Fish For Deep Frying
Pieces, strips, fillets, or whole fish that are less than 1½ inches thick are best to use when deep frying fish. The less bones that are present in a fish, the better it is for deep frying. The reason why is because deep frying is a quick method, which doesn't allow for enough time to break down the structure of the bones as slower cooking techniques are capable of doing.

How To Deep Fry Fish
You can coat them in a breading or the batter of your choice. Dredging the fish in flour first can help the batter to stick.
Gently add just a few pieces at a time to the hot oil. Be sure not to overcrowd it because the temperature of the oil will drop when food is added to it.
Cook for a few minutes until they're done. They should be a nice golden brown on the outside, and moist and flaky on the inside. Drain for a few seconds in a fry basket, then place on paper towels to help soak up the excess oil.
If you'll be frying more fish, place the cooked fish in a warm oven at around 175°. Be sure to allow for the cooking oil to heat back up before adding another batch of fish.
Serve immediately with your favorite dipping sauce and sides. Enjoy!

Related Articles For Cooking Fish:
See some of our other Top Picks for Seafood Recipe Cookbooks here.