The Benefits Of Owning A
Collapsible Fishing Rod
And Our Shopping Resource For A New Telescopic Fishing Pole.

A collapsible fishing rod gives you the convenience to store away and pack around your equipment.
Collapsible rods can be considered pretty much the same thing as travel fishing rods or telescoping fishing rods. Pen fishing rods are even collapsible, so those can also be included in the same category.
These rods all telescope outwards from within the main shaft, or blank. And of course, they collapse back down when finished using them and ready to store away.
There are a variety of options for sizes, brands, and carrying cases. I personally have a telescopic pole that I pack into a backpack, and find that it's quite convenient.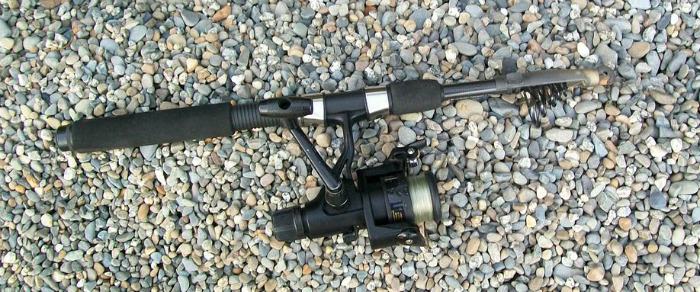 Collapsible Telescopic Fishing Pole & Reel Combo
Collapsible Fishing Pole Options
A few notable manufacturers that produce collapsible rods include Daiwa, Eagle Claw, Okuma, Shakespeare, and Zebco.
Sizes, lengths and actions vary from being as small as ultralight writing pens which extend out to a few feet, and sizes that extend much further which we would normally find with other rods that we use everyday.
Collapsible rods can often be found as rod and reel combos. Many of these kits may even include hard sided travel cases. Or you may rather choose to have a softer type of protective cover, which will take up less room for traveling and cut down on the excess weight.
Collapsible Fishing Rods Quality And Convenience
Many fishermen believe that the quality of these types of rods are poor. I'm sure that the older production models might have sucked, but the telescopic poles being made today have advanced greatly. However, I doubt that they'll ever be as good as single piece solid rod blanks.
But then again, these rods are created for a convenience. With convenience, often times other qualities must be sacrificed. It still doesn't take away from the fact that these rods catch fish, and it makes the fight that more exciting.
The main purpose of a collapsible fishing pole is for it's compactness. This provides us with much easier transportation to and from our freshwater fishing destinations. Much like the blue tooth for your cell phone, it's hands free.
Just simply place it in your fishing tackle backpack, strap it over your shoulders and your good to go. This makes it much more pleasant to do a little exploring around the back country during your hike out to that secluded fishing hole along the river's edge or that privately owned secret pond.