Kevin Hart Fishing

Comedic rockstar Kevin Hart enjoys fishing during his vacation time along with his wife Eniko Parrish, and his two kids.
According to the captions for the pictures that Kevin and Eniko have posted up on their social media channels, it appears that they're saltwater fishing off of the ocean coast lines of Costa Rica and Fiji.
Some of Kevin's other social media posts are of himself jumping off a yacht into the ocean and swimming around. We just hope he doesn't get attacked by a man-eating shark.
As a matter of fact, he posted a video of a shark swimming in the water and he refused to get back in. Who would, right? In another video he jokingly states that he actually is a shark as it shows a clip of himself swimming.

Without further ado, here are some dope pics of Kevin Hart fishing. As he would probably say, "live, love and laugh" at his family vacation fishing pictures.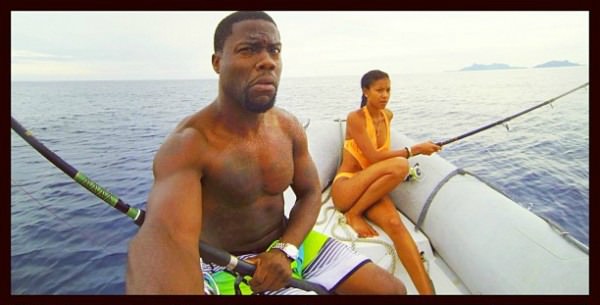 Kevin Hart and wife Eniko Parrish fishing in Fiji out of an inflatable boat.
Kevin Hart Instagram Fishing Pictures

Kevin and Eniko relaxing on the boat after catching a few groupers during their family vacation in Costa Rica.

Kevin and his daughter Heaven are happy with some type of orange colored fish that they caught.

Here is one of the four little groupers that Kevin hooked into.

Here are the two love birds aboard a yacht out in Fiji this time. They weren't able to catch anything, but it sounds like they had a great time. At least they got to see some dolphins and other sea creatures.

He thought it was hilarious that she got stung in the booty by a jellyfish while snorkeling. I would've laughed too.

His hashtag #Whoa is enough said. I'm surprised that he didn't also use #DopePic as he usually does.

Eniko Parrish Instagram Fishing Pics

Here is basically the same photo that Kevin posted (shown higher above this page) with himself and his daughter Heaven.

Eniko has video of him pulling the fish up out the water into the boat. They kept it to fry it up and eat.
There appears to be some confusion as what type of fish this is. I'm guessing either a mutton snapper or an orange roughy. Take your guess at it in the facebook comments section found below towards the bottom of this page.

Another video with another kind of fish they caught. Hendrix wanted to throw it back, but Heaven wanted to keep it and put it into a bucket. But it kind of sounds like they might have thrown this one back into the water.
More Info About Kevin Hart

Funnyman Kevin Hart is one of the most hilarious comedians on the planet.
He wears many hats. He's a record breaking touring comedian on stage, a successful Hollywood actor in television and movies, entrepreneur with his own production company called HartBeat Productions, and a loving devoted Father to his children.

Kevin's beautiful wife Eniko Parrish is an American model, actress, and social media icon. The two of them currently have two children together.