Crappie Fishing Equipment and Gear
Is crappie fishing equipment really all that expensive?
No. Not at all.
But it can add up fast. Especially when one-stop-shopping for everything and buying in bulk.
If you're new to crappie fishing then I would suggest that you start out with buying and using just the basic crappie tackle. As you grow with experience and knowledge about freshwater fishing for crappie, then by all means you should expand on higher quality crappie equipment.
With that said, I'm sure you're not here to be mentored on how to manage your money. So there's no need to get 'crappy' about it. ;-) Totally kidding of course.
Basic Equipment For Crappie Fishing
It really doesn't take much to get started. Here's a quick little checklist of the basic items that you would need:
with a reel/combo
2 to 10 pound test line
small bait hooks
a slip float
split shot weights
These things are just the basic ticket items to getting out there on the water and start catching those panfish. Most of the time this is all that you'll ever need.
Perhaps you want more...
Perhaps you want to get out on a boat and experiment with some fun crappie fishing techniques and tactics. Maybe there are some cool new lures on the market that you're interested in testing out.
Or maybe you just want to stock up on some tried, true and tested classic little tackle items like jig heads tipped with live minnows. Or artificial soft plastic lures like tubes, grubs, swimbaits and worms. And even mini crappie crankbaits and inline spinners.
I'm right there with you. It's difficult to fight the urge of shopping for new equipment and using new techniques. My wife doesn't always approve of my fishing budget, but I can hardly help myself, and I have a blast doing it. I love it like a fat kid loves cake.
Mr. Crappie has an excellent line of crappie equipment, from their signature series of freshwater fishing rods, reels, lures and more.
Best Deals On Crappie Fishing Equipment
Ready to start shopping for some new crappie fishing gear? Great!
Bass Pro Shops always has outstanding equipment for any of your fishing needs. Check them out today for their latest inventory, excellent sales, stuff on clearance and more...
Bass Pro Shops now offers FREE shipping to our stores! See website for details!
Alternatively, you can find a bunch of slightly used fishing gear for crappie through the online auctions. You can get lucky and find brand new things being sold there too.
One of the best things is that the majority of the stuff found on there will cost you much less than if you were to get them new from another store. Besides that, most items seem to be just as good as new.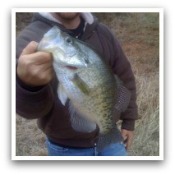 Got Crap? LOL

Share Your Crappie Pictures and Stories Here.