Freshwater Striper Fishing

A Bass Fishing Adventure On A California State River
I have a cool and exciting striper fishing story that I would like to share with you...
The weather was beautiful on the first day of March of 2011. A storm had recently pushed through just a few days prior. The temperatures had been freezing cold during the nights leading up to this day, but it would quickly warm up as the sun broke the sky line each morning and as the days progressed into the afternoon hours.
I picked up my two boys from school at 2 o'clock on that Thursday afternoon and asked them if they wanted to go fishing. Of course they said yes.
I thought about going striper fishing at one of my favorite striped bass hot spots. However, I wasn't planning on spending much time out on the water that day because the kids still had homework to do, my wife would be getting off of work soon, and our evening household routines needed to be taken care of.
Striped Bass Fishing On The Calaveras River
I already had a fishing spot in mind and know what what type of fish hang out there. There's a narrow stream called the Calaveras River, which translates to the River of Skulls, about 4 blocks from my house. It holds largemouth bass but they don't really get too big in size.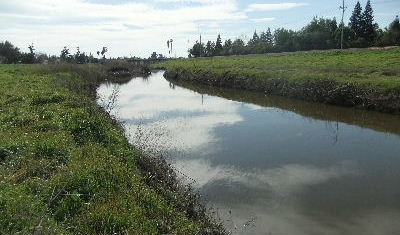 The Calaveras River Running Through Stockton, California
The Calaveras River running through Stockton, California used to be a very cool area to go striper fishing at nearly a decade ago. However, things have changed drastically over the years. Pollution and destruction to the habitat and surrounding environments have depleted fish population, resulting in dying fish that suffocate to breathe in the low oxygenated and polluted waters.
The water level used to be higher and the banks would be lined with fishermen. Anglers would seek out chinook salmon, steelhead, wild rainbow trout, catfish, carp, largemouth bass, striped bass, and baitfish such as shad and crayfish, just to mention a few of the popular species of fish known to populate throughout the Calaveras River.
To my knowledge and according to rumors, the striper fishing in the Calaveras River running through the Stockton area is nearly a thing of the past. But, is it truely long gone?...
Gearing Up For Bass Fishing
Anyways, we got to the house and I opened the garage to grab some tackle. I was kind of in a hurry, but not rushed. I grabbed a tackle bag of bass fishing gear and tossed it in the trunk of my car.
Then I quickly snatched a fishing rod that was already rigged up and ready to go. I consider this rod as one of my "multi-purpose fishing rods." I use it on the go for striper fishing, black bass, carp, catfish and more.
About My Striper Fishing Rod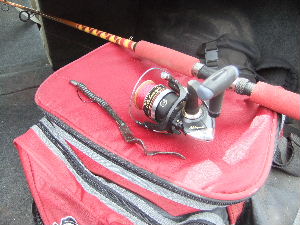 Bass Fishing Tackle - Bag, Rod, Reel, Lures
I closed the garage door and realized that I mistakingly picked up a 7 foot one piece blank, which won't fit in the trunk of the car.
Oh well, I'll just have to make due. Not a problem.
Rather than going back into the garage for a two piece rod, I layed down one of the back rest panels of the back seats and slide the rod in through the trunk. And off we went.
This fishing rod blank was built with a custom wrap from the old man many years ago. While he was still alive and able, he really enjoyed striper fishing. So, I assume that this was one out of the hundreds of custom fishing rods he must have used to catch stripers as well as other types of big game fish throughout the California Delta.
How This Custom Fishing Rod Is Rigged
The rod has a Shakespeare fishing reel spooled with Shakespeare Red Cajun monofilament fishing line. I usually prefer to use flourocarbon line when fishing for largemouth bass, especially around cover. But like I said, I was in a hurry and this was what I quickly snatched up.
I had rigged it with a tungsten bullet weight tied to a 3/0 EWG (extra wide gap) Gamakatsu hook, Texas rigged with a 10" Berkley PowerBait Worm in the June Bug color.
Hitting The Fishing Spot
There are multiple access points to get to the river and I decided to start out a little further down the road. I parked the car, handed the camera to one of my boys, grabbed a pack of soft plastic lures, my Rapala multi-purpose fishing pliers, the fishing rod, and then headed to the water.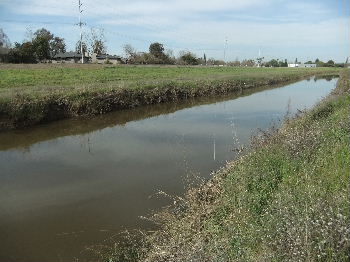 Arriving at the Fishing Spot of the Calaveras River
I noticed right away that the water was nice and calm, but a little stained from the recent rains. The sky was blue with a few overcasting clouds.
It's been nearly a year since I've fished at this area and I already noticed some changes right away such as the following.
I looked for a man made cemented rock wall that stretched about 30 feet wide along the water's edge. I've caught fish there before, but I couldn't see it anywhere now.
Fishing Towards The Bridge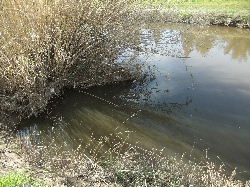 Key Fishing Spots Like Overhanging Brush
We were in between two bridges, and so I decided that we would work our way east ward until we reached the bridge.
The kids and I took turns casting and using a variety of retrieval techniques and finesse fishing tactics.
We didn't spend much time at all in any one area. I looked for key spots such as brush piles, weed lines, little coves, wood stumps, lay downs, eddies and bends in the river.
We would make a few casts to and around those key areas, and then move on.
The more I looked at the Pacific Avenue Bridge, the faster I wanted to get there because I already know that fish can be found there most of the time.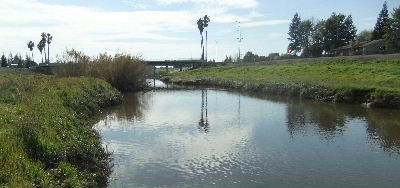 Heading For The Pacific Avenue Bridge By The University Of Pacific
We arrived at the bridge and I noticed a few more things out of character for that area. There's always a pile of debris and timber resting in the water near the bridge, cluttering up next to some overhanging brush, which is where the bigger largemouth bass seem to be on many occasions. But there wasn't any debris there now.
Large rocks help to support the ground area surrounding the bridge pylons and the bank of the river. There had been a pathway to cross a narrow section of the river constructed from some of the boulders, however, that was no longer there either,... possibly submerged due to the rise of the water level.
I immediately thought to myself, "wow, they have done a really nice job at cleaning this place up, finally." Apparently, volunteer groups get together to clean up the areas of the river where it runs through Stockton, also known as a Calaveras River Cleanup. Other organizations have been involved with this over the last few years as well, such as the Friends Of The Lower Calaveras.

The Freshwater Striper Fishing Experience
My first cast was upstream, out away from the bridge. Then I threw a cast underneath the bridge directly across to the other side of the river in between a couple pylons. As I worked the presentation I actually got hung up on a small log. How can that happen while using a weedless style fishing rig? Well, the plastic Power Worm became wedged in a crevice of a branch.
By this time, my boys were doing what most kids do,... playing around in the rocks looking for little critters.
3rd Cast - Fishing At The Bridge
I then cast as far as I could through the bridge pylons down stream. The lure landed right next to a pylon on the other side and I cranked the handle a couple times to reel in the slack.
I twitched the rod tip a couple of times to get the bait to hop through the rocks a little and to give it some action. I felt a little pressure on the line and thought I may have been hung up in the rocks. I popped the rod a couple of times to try to break free. The line began to move out towards the middle of the water so I swiftly pulled the rod tip hard towards me in a hook setting motion and gave a couple more cranks of the handle.
At this point I actually thought I was snagged on another log. I tightened the drag, pointed the rod tip straight at it, and began to pull back. It didn't seem to budge much so I tried reeling again.
Again I felt the line move a little more towards the same side of the bank which I'm standing on. I gave a couple of cranks on the handle and pulled hard,...
And then I felt "IT"!
I felt a good head shake and heard a splash in the water. Fish On!!! But unfortunately, I couldn't see much because the pylons were right in line with what was taking place at the business end.
As I was fighting it, I yelled over to my boys, "hey guys, I have a fish!" They looked at me and I pointed out to the water and told them to "check it out!" Just at that moment, the fish busted the surface again, and my boys immediately went into pure excitement mode as the whoa's, ooh's, ahh's and yeah's spilled from their mouths.
Once I realized that it wasn't a log, my next thought was "maybe I have a largemouth bass covered in a bunch of weeds." Then it felt like it was bulldogging so I thought "it might be a catfish."
The fish was heading behind the pylons and I definitely didn't want it to get wrapped up so I knew I had to get the fish in quick. The more I battled the fish, the bigger it felt.
My rod was doubled over just about as far as it could handle as I brought the fish towards me. I was almost certain that my line was going to break at any moment. I wanted to loosen the drag but I just couldn't risk the fish making a run around all the chaos of obstacles. All I could do is try to muscle the fish as carefully as possible.
I really had no idea what I had on at the end of the line. I just kept thinking that maybe it was a beefy trophy channel catfish. But I was hoping that it would be a lunker largemouth bass.
I finally got the fish close enough for me to see it as it started to clear the bridge pilings. It was steadily thrashing the surface of the water when I finally identified what I had been dealing with... a striped bass!
I was not expecting this at all. I was quite surprised, but not because of the fact that I caught a striped bass. I catch plenty of fish when I go striper fishing, but I never expected to catch a striper out of this particular area of the Calaveras river. My fishing buddies are just as amazed by this too, because stripers haven't been known to normally swim through this area of the river for quite some time now.
Catch And Release Striped Bass Fishing?
I landed the beautiful striped bass and took a few pictures. I was thinking about releasing it back into the water but my kids liked it so much that we decided to keep it. So we took it back home with us, cleaned it, cooked it, and ate it. I made pan seared striped bass with citrus garnish, and it came out moist and tender which tasted absolutely delicious.
Final Thoughts About This Striper Fishing Adventure
So, is the striper fishing long gone and a thing of the past in the Calaveras River? Apparently not! I've been told it was just luck. However, that is part of the game sometimes - being in the right place at the right time - more importantly, using the proper equipment and applying efficient techniques to have a successful and fun day out on the water.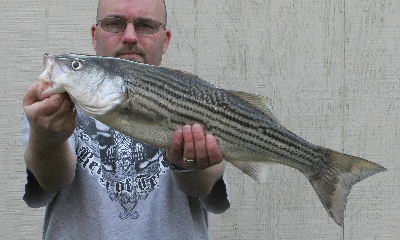 Catching Striped Bass While Fishing The Calaveras River
This is far from being a 50 or 60 pound giant striped bass. But the point is that there still is some hope for the future of the striper fishing just minutes from home on the Calaveras. And that helps to ease the mind a little. I suppose only time can tell.
Catching that striped bass was the highlight for my kids that day. They had fun out there on the river as they always do when we go freshwater fishing, but they seemed to think that this was one of the best and coolest angling trips they have been on in awhile... until next time. =)
Share Your Striper Fishing Adventures
This is just one of the many striper fishing adventures that I have. Do you have a striped bass fishing story to share?
Submit your fishing pictures and stories to us today. We greatly appreciate your contributions and checking out what other fishermen from around the world have caught. You can see an example of another cool entry submitted by one of our loyal website visitors titled Created My Own Destiny.
River bass fishing - You may also be interested in checking out these river fishing tips and tactics, and the 5 best hot spots to target during the warmer months of the year for bass.