Sparks Noodling
by Bobby Sparks
(Walters, OK)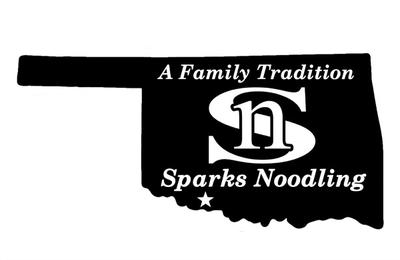 Sparks Noodling Family Tradition
Over 20 years experience - My Dad Bobby Sparks taught me, as well as David and Red Bagget (the stars of the Okie Noodling 1 and 2).


I have appeared on ESPN Timeless, Glutton for Punishment, and Okie Noodling 2. We also filmed episode 1 of season 4 with Jeremy Wade on River Monsters, which aired in the spring of 2012.
We fish the creeks, rivers and lakes all over Southwest Oklahoma and North Texas.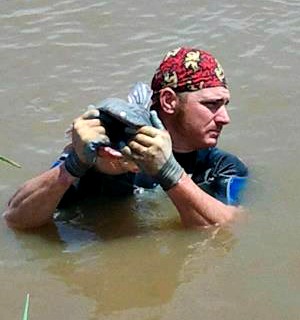 Safety is Priority
- if you can not swim, that's okay.
We do not consume alcohol while fishing. We are not responsible for accidents.
Noodling trips will be scheduled on a first come, first serve basis. The season starts around May and runs through July, and occasionally into August.
Daily fee per person begins at $250.00 per day, but can be much lower if booking for extended days. Group rates are available for greater savings. There is a 50% deposit. The remainder must be paid in full, and a release waiver signed before departing to fish.
Meals, licenses, permits and lodging are NOT included. However, snacks and beverages may be available during the guided trip. There are no guarantees of fish.
Just remember, when you get bit, you'll either Love it or Hate it. But you'll never forget it...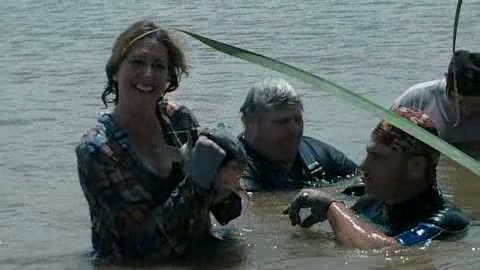 Happy client with her catfish.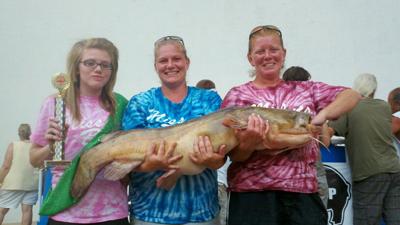 Top females in the Okie Noodling Tournament with a 44 pound catfish.
Brandy Sparks proudly displaying her big flathead catfish.



More information and current rates are available on the website - see contact information below.