Pond Fishing Tips For
Black Bass, Panfish And Trout
Do you enjoy pond fishing around your neck of the woods?
As for myself, I do a little bit of freshwater fishing in some local ponds and have a blast!
I'm lucky enough to have quite a few ponds available to fish at close by where I live. All of which are only within a few minutes of driving distance, with the furthest of my favorite being within less that 15 minutes away at the most.
Most of the freshwater fishing ponds that I frequent are known to hold largemouth bass, spotted bass, bluegill and catfish. There's also one pond that is stacked with a lot of carp.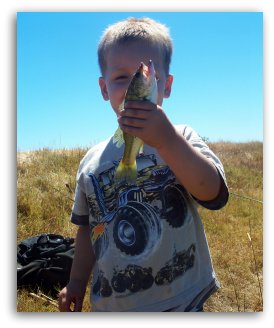 Jared with a small largemouth bass from a pond.
A couple of the other ponds are actually considered as man made lakes, although, they are fairly small. One of those lake/ponds are frequently stocked with trout, and sometimes tournaments are held there as well. And another one of these man made lakes has black bass, bluegill, and a few carp.
The fish in these ponds don't necessarily grow too large. The biggest largemouth bass I've caught in one fishing pond weighed around 5 to 6 pounds. The average size of these bass range around 2-4 pounds, with very few going 5 pounds, and of course there's a bunch of those smaller half pound shaker fish.
Regardless the types and sizes of the fish, they are still fun to catch.

Best Times To Go Pond Fishing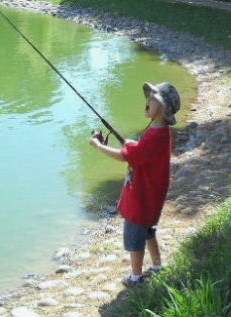 I'll go pond fishing when I plan on fishing for just a couple hours. Or I'll often hit up a pond if I just want to try out some new lures or experiment with some techniques.
Some of the ponds are actually heavily fished. This allows for me to be able to get a decent idea of what might produce well in the main bodies of water that I plan on fishing later, even though the conditions are a little different.
Besides that, it's an easy way to get the kids involved. Or, a buddy and I will just go and sling it out with the fish, contesting to see how many we can catch.
Although we are allowed to drop in small boats or rafts in a couple of these ponds, I never do. Another one of the reasons I go pond fishing is because sometimes I don't feel the need to take a boat out. I like to save those times for bigger waters when I actually need a boat to get to key locations. These ponds are much smaller and most of them are accessible by foot all the way around the shoreline banks anyway.
How To Catch Fish In Ponds
Here are a few helpful tips, tactics and techniques I use for fishing the ponds nearby me...
Fishing Tackle for Ponds
I'll often bring along two or three freshwater fishing rods rigged up for different types of presentations because usually I plan on fishing at all depths of water to determine what will work best. So I'll set up for top-water, sub-surface, and bottom fishing.

Dusk and Dawn Fishing at the Pond
Generally, I'll be largemouth bass fishing. For pond fishing in the early mornings or late evenings, I'll tie on a top-water lure such as a buzz bait, popper, frog or a super spook. As I work my way down along the bank, I'll start fan casting, more so towards key areas such as along weed lines, structure and extended points. I'll even toss top-water lures throughout the course of the day when conditions are suitable like overcast skies.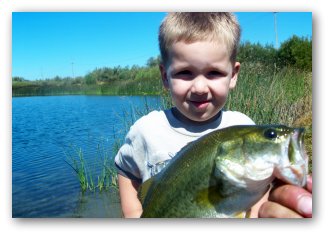 Mid-Day Fishing the Pond
As the sun rises and the water temperature warms, the fish generally don't like to look up into the sun light. Therefore, sub-surface presentations are required to get the job done. I'll start throwing spinner baits, crank baits and swim baits. I'll vary my cadences on retrieving the lures until I figure how they like it. When it seems like they're being sluggish, I'll allow the bait to pause, or even switch to a jerk bait lure.
Half Way Point While Fishing Ponds
After working my way around with surface and sub-surface presentations, I'll be at a point in the day of pond fishing where it's time to start heading back. So, this is a good time to switch it up and slow things down a bit with soft plastics or jigs as I back track.
I'll start flipping and pitching to many of the same key areas as before. Usually, the different lures and slower presentations will often entice the more finicky fish that refused the previous offerings. I've even occasionally caught what seemingly was the same fish twice on different lures.
Fishing for Bluegills in Ponds
What about the bluegill fishing? I'll still make my way around the banks. Many times I'll use smaller scaled down micro lures such as spinner baits, jigs, grubs and tubes. Or I'll simply use live worms under a float. I'll cast out and allow it to set, cranking the handle a couple times every now and then. Then move on down further along the bank until I find those panfish.
Fishing for Trout in Ponds
Pond fishing for trout is a little different. First, I usually set up a chair and stake a rod holder into the ground. I'll set up one pole with my trout bait like power bait eggs, corn and/or panfish worms. Sometimes with or without a bobber. I'll either have somebody watch that pole or just keep an eye on it myself. Then I'll start casting lures with my other set-up.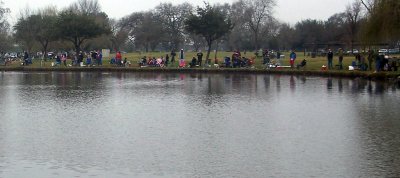 Oak Grove Regional Park in Stockton, CA during the annual Trout Bout Fishing Tournament.
Check out fishing for big fat bass from the bank for more about shoreline fishing.