KY Lake Whisker Wrestlin'
by Austin Johnson
(Benton, Kentucky, USA)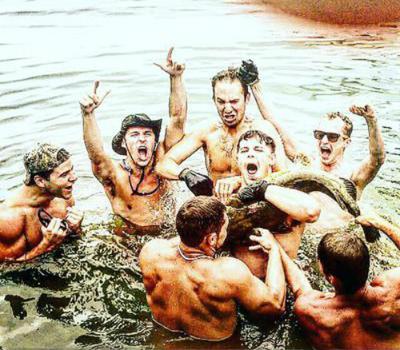 KY Lake Whisker Wrestlin' Catfish Noodling Guide Service
Are you ready for a thrill of a lifetime? If so, you have come to the right place. We are a family operated guide service here to bring you the opportunity to wrestle Kentucky Lakes' biggest catfish.


We are experienced and knowledgeable on the area to guarantee your safety and to provide you with the opportunity to wrestle a trophy catfish with just your own two hands.
We offer trips for small and large parties. We can accommodate lodging, as well as additional information as needed.
We hope to see you this summer and give you the chance to see what its like to GET BIT!!!
All that's left is for you to call to book your trip of a lifetime...
KY Lake Whisker Wrestlin'
Austin Johnson
(270) 978-4550
ajohnson86@murraystate.edu
You can also find us on facebook at KY Lake Whisker Wrestlin
https://www.facebook.com/noodlingservice/
So what are you waiting for? Come see what it's like to GET BIT!
This won't be your average fishing experience!