Freshwater Fishing Basics
For Learning How To Fish

You want to learn about catching fish? Awesome!
These freshwater fishing basics will help get you started on the right track. And this site is packed with many angling tips and techniques for the beginner and expert fisherman in mind.
Freshwater fishing is a fun and exciting sport. It should be relaxing, and not overwhelming or stressful. So there's no need to feel intimidated about this great pastime. Enjoy yourself and go have a blast out on the water!
The Essentials of Freshwater Fishing
Our fishing for beginners section goes into some nice details about what necessities you should need to get yourself out on the water. It covers resourceful information on when, where, how, and what items that you need for freshwater fishing.
Once you get that out of the way, come back here and we'll cover a few more of the basics for freshwater fishing. I'll wait right here.

Learning About Freshwater Fishing
One excellent way to learn about fishing is by going to bait and tackle shops, and hunting and angling stores. Ask them questions. The people in the fishing community are usually more than willing to give advice. I'm always inquiring information whenever I go to a fishing store.
Another great way to learn about freshwater fishing basics is by reading angling books and magazines, and watching fishing videos and television program shows. Those are always packed with great valuable freshwater fishing tips and tutorial techniques.
Nearly every freshwater waterway contains bass. Learn more about catching them with a subscription to BASSIN' magazine today!

The absolute best way for learning how to fish is just simply by spending time out on the water. The more you fish, then the more experience you'll gain until it almost becomes like second nature to you.

Freshwater Fishing Basics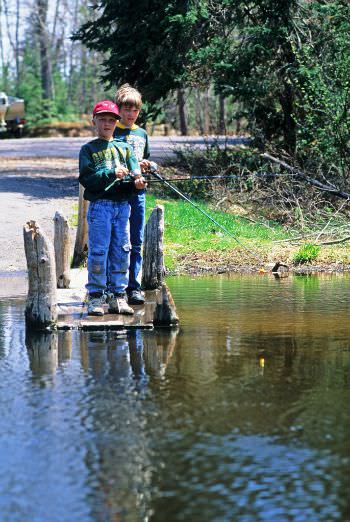 There are so many ways and styles of fishing. But one of the easiest and most common techniques is fishing with a hook, line and sinker. It's a relaxed style of angling that is enjoyed by millions of people. And it's a good strategy to use for fishing for catfish.
A great place to begin would be at a small lake or a pond fishing for panfish like bluegill and crappie. Panfish are really fun for light tackle fishing and put up a nice little fight. I enjoy busting panfish myself, and they are exciting for kids.
When bluegill fishing and crappie fishing, the approach is quite simple. I recommend a light action fishing pole about five and a half feet in length. Match that with either a spincasting or a spinning reel. You can be able to find rod and reel combos that come pre-spooled that are also inexpensive.
Using a small hook and a bobber, bait the hook with a worm and you're ready to go. Toss it out near a dock or some brush and you should be in business. You can adjust the bobber to get the hook down to where you think the fish are holding at in the water. And if the hook isn't sitting how you want it to, you can clamp on a split shot sinker to your fishing line.

More Specific Basics Of Freshwater Fishing
Do you already know what species of fish you want to catch? Then feel free to have a look at the navigation links above at the top of this page for the species of fish you intend on targeting to have a deeper look into what you should know about fishing for them.
Good luck and have a blast freshwater fishing! We would love to here all about your fishing adventures. Send in your fishing pictures and stories here.