Freshwater Fishing Calendars
Can't seem to find a decent fishing wall calendar around any of your local shopping centers?
I know I have a hard time finding many cool looking calendars with awesome photography shots of fishing at the stores from around my neck of the woods.
So, I have decided to put together this section to help you find one that you would love to proudly put on display.
Simply go to the most current year available, or a past year if you are a collector. Once there, you'll see that the calendars are organized in various groups.
There's wall calendars, desktop day-to-day calendars and pocket planners.
Categories also range from fly fishing, trout, largemouth bass, women anglers, and freshwater fishing.

Custom Wall Calendars
Would you like to have your very own fishing calendar?
Well, you're in luck. You can create your own calendar. You can use your own photographs of yourself, family, friends, and/or of whatever scenery and background you have captured, and customize your calendar just the way you like it.
These would make for some very unique and fantastic gifts. Or perhaps you could bring in a little extra income by selling them. Maybe even use them for advertisement purposes.
Get started on your personalized calendar here. Have fun and good luck.

*May only be available for a limited time.

---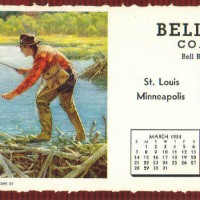 Are you a avid collector of vintage fishing themed calendars? Or just looking for back issues and out-of-print editions? Looking to fulfill your complete set of a particular series?
Find what you're missing within our vintage calendars for collectors section...
Vintage Fishing Calendars For Collectors And Hobbyists

---