Choosing The Best Crappie Fishing Rods For Your Panfishing Needs
Tired of those 'crappy' reviews? Enough of the crap!
Finding quality crappie fishing rods doesn't have to be rough and tough. We'll help you to quickly and easily pick the right crappie fishing pole to buy for yourself.
Simply put...
The more time that you spend, or plan to spend out on the water fishing for crappie, then the more that you may want to invest in your equipment. If you're serious about catching crappie, be just as serious with the tackle that you purchase and maintain.
However, if you only go freshwater fishing just once or twice a year, then a cheap fishing rod and reel combination could be suitable enough for you in the meantime.
Tips for Selecting the Best Crappie Rod
There are a few simple things to consider when shopping for a crappie fishing pole. The kind of fishing rod that you choose should be determined by the crappie fishing techniques that you will be using, as well as the conditions.
There are 3 general things to consider - Length, Action, and Power.

Length - Crappie rods vary quite a bit in length. The most common lengths are from 6 to 10 ten feet. Ice fishermen like to use 2 to 3 foot crappie poles. On the other end of the spectrum, some freshwater enthusiasts swear by 14 and 16 foot rods.
Longer rods are great for longer casts, jigging, and mustering fish out of heavy cover and tough structure.
Shorter rods are great for short, quick and accurate casts into tight spots like overhanging brush and small pockets, and allow for quicker hook sets.
Action - A slow action rod blank is important for hooking and playing crappies because they have paper thin mouths. The light action allows the rod to bend and absorb the pressure so that the hook doesn't rip away or rip through their mouth.
It's also what you would want to have when using live bait so that it gives the fish enough time to eat the bait without sensing pressure on the other end. Another plus is that it helps prevent your line from snapping too.
Power - A light power rod is all that's needed for small panfish. There's no reason for a powerful rod because the fish are small and they're not going to put up a big enough fight to bulldog you into any kind of cover.
Quick Tip - When in doubt, one of the easiest things to go from is to simply select light weight to ultralight weight style blanks for crappie fishing rods. Super sensitive is the key. See action and power of freshwater fishing rods for more information.
Top selling crappie fishing poles.
Get your shopping on for new Crappie Rods at Bass Pro Shops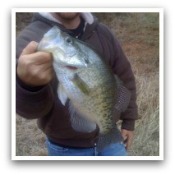 Got Crap? LOL

Share Your Crappie Pictures and Stories Here.