Hot Crappie Fishing Lures And Artificial Baits That Entice Panfish To Bite

Shopping around to find the newest and hottest crappie fishing lures? Great!
I've got you covered with some excellent resources. You can scroll down towards the bottom of the page for more details. But first, there's some cool information that I'd like to share with you...
Don't miss out on the following tips to help in selecting the best lures for catching crappie, as well as some of your other favorite species of freshwater fish.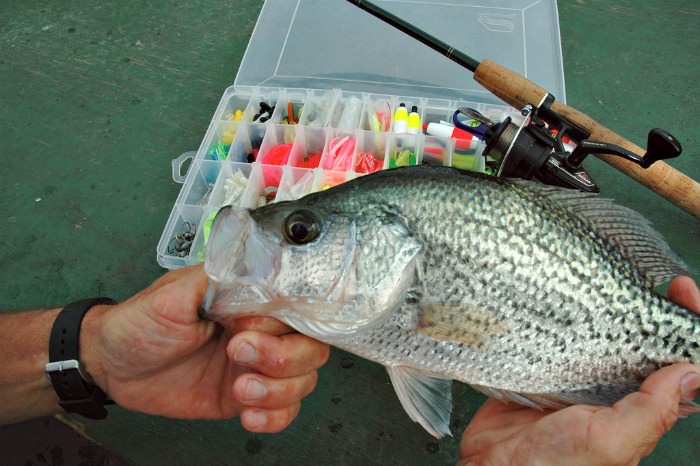 Fishing Tips For Using Crappie Lures
Crappie lures are very versatile lures. Not only can you catch white crappie and black crappie, but you might be surprised at all the other types of fish that you'll end up catching...
Freshwater fishing lures for crappie can easily attract other kinds of panfish and sunfish like bluegill, warmouth, and other small fish such as trout, little stripers, smallmouth bass and largemouth bass.
As you can tell, panfish lures are a good little investment. If those darn crappies are being too stubborn to bite, then you can try taking a break from them and look for other fish to catch.

Best Types Of Crappie Fishing Lures
There are hundreds and thousands of different kinds of lures and tackle accessories to choose for crappie fishing. They include...
jigs

jig heads

spoons

soft plastics

frogs

crankbaits

inline spinners

spinnerbaits
Crappie lure kits are also always great to have. They're even cool to give away for fun gift ideas too... that's if you can resist using them for yourself.
Of all the lures available, there are three main lures that are proven to catch crappie on a consistent basis. The Top 3 Crappie Lures recommended to have are:
Maribou Jigs  |  Curly Tail Grubs  |  Spinner Baits
Check out our reviews for more awesome crappie catching baits like the Crappie Magnet lures, Mr. Crappie signature series of Wally Marshall crappie tackle, and different types of crappie fishing crankbaits.
When shopping for lures, be sure to keep in mind that the best lures for crappies are ones that most resemble and imitate minnows and worms. As promised, here are some great online shopping resources to find excellent deals for crappie fishing baits...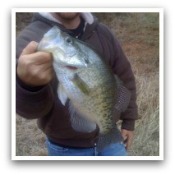 Got Crap? LOL

Share Your Crappie Pictures and Stories Here.