Bait Caster Fishing Reels

Bait caster reels are also known as a baitcaster, baitcasting reel, and casting reels. They are referred to as "conventional reels" in the Unites States, and as "multiplier reels" in Europe.
The conventional reel, though nearly identical to the baitcaster, is designed for trolling and vertical fishing. They are better noted for big game fishing and salt water tactics.
The bait caster has a smaller profile and is designed for numerous casts throughout the day. They are better noted for freshwater fishing, but are also widely used in saltwater. They can also be categorized as low-profile and round reels.
Low Profile Baitcasting Reel
Whichever style it is, these reels sit on top of a casting rod.
Skip down to shop for baitcasting reels now.
Or continue reading to educate yourself more about the pros and cons, how they're made, what makes them tick, general maintenance, and some helpful tips.
The Many Advantages Of Baitcaster Reels

These reels are capable of long casting distances, but are better suited for accuracy. The revolving spool allows the angler to fine tune their casts. By thumbing the spool as the line is coming off enables the angler to place the lure exactly where they want it, which is also great for sight casting.
Baitcasting equipment is best with larger lures as it requires the weight of the lure to help provide the momentum to pull line from the spool. A lure heavier than 1/4 of an ounce is best suited. These reels are ideal for crankin', pitchin', flippin', finesse fishing, and many other styles of fishing.
Stiffer fishing rods are best matched with a bait caster reel when the situation calls for the heavier lures and lines. And it's better to use lightweight rods when finesse fishing.
They are able to handle a wide range of fishing lines, such as braided, fluorocarbon, and monofilament, which also includes light to heavy lines. During a cast, the line flows smoothly through the rod guides which improves the casting distance. And line pulls freely from the spool when fish takes drag, creating minimal friction.

Precision Components Of Baitcast Reels

Round Baitcasting Fishing Reel
These days, bait caster reels are made out of aluminum, stainless steel, and/or synthetic composite materials. And they have a small revolving spool.
Most of these reels are equipped with level-wind mechanisms. They have a push button or thumb bar that frees the spool so that you can cast freely without having to deal with the handle, or even a wire bail system like spinning reels have.

Breaking Systems

However, bait casting reels are prone to backlash. Why? Well, this is because of the rotating spools, and the inexperience of the user.
Modern types have included anti-backlash devices known as brakes to help reduce backlash.
The braking system can be adjusted to suit the weight of the bait...

Spool Tension Knob

The spool tension knob is the main system to adjust to help fight against backlash. The best way to adjust it? Holding your rod out in front of you, with the spool disengaged, allow the lure to fall slowly to the ground. After it lands, the spool should not rotate more than once. Then adjust as needed.
Re-adjust every time that you change lures, and as conditions present themselves, such as wind factors, after breaking off from a hang up, and as your line changes as it gets wet.
Centrifugal Brakes and Magnetic Brakes

There are two common types of braking systems for bait caster reels:
Centrifugal brake systems have pins, usually 2 to 6, that allow you to engage and disengage them as needed to your preference. When adjusting, you should work with the pins that sit directly across from each other, rather than pins right next to each other. This will put even tension on the spool.
Magnetic braking systems have a set of magnets that react to a non-magnetic metal spool made of aluminum. Moving the magnets closer to the spool creates the braking power. And moving them away allows the spool to move more freely.
Drag System

The drag mechanisms are called the star drag system and the lever drag system.
The star drag consists of a series of discs that increase or decrease pressure against the spools drum.
The lever drag contains a single lever that exerts pressure against the reel drum.
The drags often need to be adjusted according to the weight of your bait, conditions throughout the day, and sometimes while fighting fish.

Gear Ratio


The gear ratio is the speed of line retrieval around the spool as the handle is cranked. The standard would be about 5:1:1. Naturally, the higher the ratio is, the faster the retrieval rate would be. It would generally depend on the style of fishing you will be doing.
If you are going to be burning bait through the water, you would want a higher gear ratio of maybe 7:1:1.
If you are going to be jiggin', or just want to slow things down a bit, go with a smaller gear ratio like a 3:1:1 or 4:1:1.

Bearings
Many people believe that the more ball bearings, the better. That's not always true. It's the quality of the bearings that count. Some bait cast reels may contain a lot of bearings, but they may just be a bunch of small and cheap bearings.
Almost all material in bearings are stainless steel. Ceramic bearings are great for high speed applications, however, they don't last as long as stainless steel.
The biggest difference between bearings are the seals. They are either encased with a plastic seal, pressed in with a metal shield, have a retaining ring in a metal shield, or are open. Shimano is the first to develop the open bearings. They have more chromium for greater corrosion resistance and are packed with grease. Bottom line, look for anti-corrosion bearings.

Basic Casting Tips

Bait cast reels can be difficult to master and requires quite a bit of practice to become efficient with them. You definitely would want to practice at home first to get the hang of it.
Even the best in the business encounter backlashes, so don't feel deeply discouraged when it happens. Backlash occurs more often when casting into the wind. Cast with the wind whenever possible to help minimize the nasty backlash with your baitcaster.
To cast:
Depress the thumb spool release button while keeping your thumb on the spool to control the line and lure as it unwinds from the spool.

Hold the rod and reel so the handle is pointing upward for greater wrist flexibility.

Holding the rod and reel in front of your body, bring the rod backward so the tip reaches a point above and behind your shoulder.

Without stopping, bring the rod back in front of your body at a slight angle to your left or right in a single motion.

Release the thumb spool as the rod is brought forward so that the lure is launched slightly upward and outward toward your target.

As the lure approaches the water surface, stop the spool with your thumb and begin your retrieve.
General Care For Fishing Reels

Good fishing reels should last a lifetime with proper care and maintenance. Keep your bait caster reel free from sand and dirt. Store in a dust free environment or/and use a protective reel cover for your equipment.
Lubricate your reel and its parts as needed, but sparingly. Only use recommended reel lubricants, rather than WD-40. Why not WD-40? It's a fact that it clunks up over time which ruins your equipment and does not allow for smooth casts and retrieves.
Real Magic and the Ardent Reel Kleen Cleaning Kit are a couple very good top recommended brands that I personally like to use.

Fun Facts and History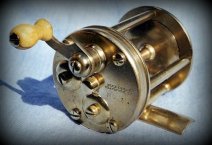 Meeks and Milam #3 circa 1860 reel
The bait casting reel dates from at least the mid-1600s, but came into wide use by amateur anglers during the 1870s. These early day reels were often constructed with brass or iron gears, with casings and spools made of brass, German silver, hard rubber, or even wood. They also were often operated by inverting the reel and using back winding to retrieve line.
Some good modern day manufactures include Abu Garcia, Quantum, and Shimano, just to mention a few.

Shop For A New Or Used Baitcasting Reel