A Day of Catfish Noodling
by Nate Williams
(Okemah, OK, U.S.A)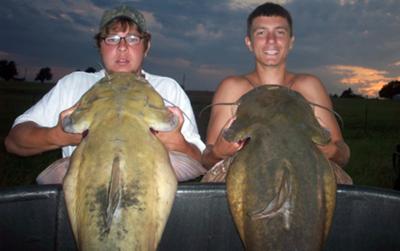 Nate and Dillon with Two Noodled Catfish over 50 Pounds
These big boys were my first two catfish over 50 pounds. We caught them several summers back...


We were noodling some old car bodies. As I checked the bed of an old upside down ford truck, bam!, the 58 pounder came up and swallowed nearly my whole leg... he let go, I came up for air, and I told my buddy Dillon.
Dillon went in with the stringer in his hand while I held his legs. The catfish swallowed his arm up to his elbow. The stringer happened to slide right in its mouth and out the gill during this process. Dillon grabbed the other end with his free hand and I brought them both back to the surface.
He handed me one end of the stringer. As I was tying a loop I held it with my TEETH so I wouldn't have tension where I was tying. And all of a sudden the fish went for deep water. It pulled me under head first via the stringer clamped between my teeth, but I wasn't letting go. I got both of my hands on the rope stringer and found my footing.
Once we got the catfish in the shallow water, we sat there and admired it and giggled like school girls for 30 minutes.
We finally decided to move on. Not 10 feet from us, inside an old upside down van... BAM!!! a 53 pounder drilled me. I backed out of the van and hollered for Dillon to bring the stringer. This one didn't get a second chance to battle us as I brought him straight up.
We stringered him and then caught out its mate. Although this third fish only weighed 36 pounds, it gave us the most trouble. While we were blocking the hole getting ready for a dive, he tried to blow right through us. He got underneath me and almost pushed me out of the way, but I was able to stop his momentum and pin him to the sandy bottom while Dillon stringered him.
We didn't even continue the trip any further after noodling these three catfish. We had to figure out how to carry this big load of fish 1/2 a mile out of the river. That was the toughest part.
Adrenaline Rush Noodling
Would you like to go catfish noodling with Nate and Dillon? More information about their guide services can be seen here on this website for
Adrenaline Rush Noodling
.