What is it?
by Chace Johanson
(Castle Rock, WA United States)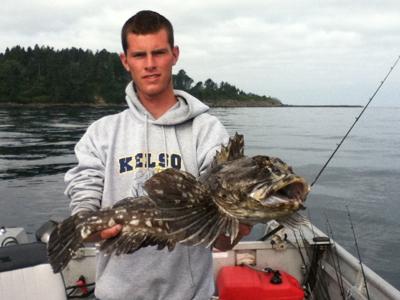 17.3 Pound Cabazon
This particular trip was out of Snow Creek Resort in the little town of Neah Bay, Washington. We left the dock into the Straight of Juan De Fuca at around 6 in the morning on August 8th, 2011. The crew consisted of me(Chace Johanson, 17), my two brothers, my best friend, and my dad.


We were catching loads of bottom fish consisting mainly of black rockfish. The hot lure was a rainbow Slug-Go. We limited out on those - a limit being 6 per person - and decided to drop some bigger gear to the bottom.
My lure of choice was an oversized rainbow Slug-Go. I hooked into a fish that obviously had a little size to it and everyone just stopped fishing to watch. We thought it would be a nice ling cod or maybe a halibut. To our surprise, but not to our dismay, it turned out to be this personal record 17.3 pound cabazon.
This fish looked nice in our box and right between the tartar sauce and chips!