Trout Fishing E-books

Recommended Reading For The Avid Angler
Are you looking for electronic downloadable books about trout fishing?
Great! We've picked out a few trout fishing e-books for you to choose from below.
Why buy an e-book on trout fishing? For the convenience and the options, right?
You can download it and save it right to your computer and refer to it whenever you like. You might even want to print off a few pages, or the entire book. Or perhaps you might want to load it onto your Kindle Wireless Reading Device so that you can access it on the go.
Besides, e-books about trout fishing are a nice way to start learning about the sport of freshwater fishing for trout. The better trout books will load you up with lots of valuable and intructional information for catching those beautiful trout fish.
We've even included quick little reviews to make the process a little easier for you. You can expect to find some helpful trout fishing tips, how-to techniques, best times and locations to catch trout, and some tricks and secrets that experienced trout fishermen have learned and used throughout the years.
Kindle Edition Trout Fishing E-Books
An Entirely Synthetic Fish: How Rainbow Trout Beguiled America and Overran the World
Anders Halverson describes in detail about the greatness and historical impact of one of the most controversial species freshwater fish in the history of North America.
The rainbow trout, a.k.a. "an entirely synthetic fish", is so popular that it has been introduced to every continent in the world, with the exception of Antarctica. You'll soon discover the positive and negative effects this fish has had.
---
Trout: The Complete Guide to Catching Trout with Flies, Artificial Lures and Live Bait
John Van Vliet is an accomplished fly tyer and fly fishing instructor, and has written quite a bit about this sport, including The Art of Fly Tying
.
This book contains 350 photos with easy to understand how-to instructions and tips, selecting the right tackle, casting techniques, catching big those trophy trout, and more.
---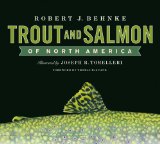 Trout and Salmon
Of North America
Trout and Salmon of North America
Robert J Behnke has over 50 years of studying and fishing for trout and salmon, and provides his vast knowledge and experience in this book.
This trout and salmon book covers everything from the scientific biology aspects to understanding how to catch these seemingly elusive fish - where to fish, the best times, the most efficient tackle, and much more.
---
Trout Lessons: Freewheeling Tactics and Alternative Techniques for the Difficult Days
Trout fishing isn't always easy. Conditions can be tough and overwhelming at times. Ed Engle describes what strategies to use for different types of water conditions, how to use common and basic techniques in unfamiliar ways, and what to do when trout are in stubborn mode.
---
Sight Fishing for Trout
This book is written by a notable fly fishing guide and has been featured in some of the top major magazines. Landon Mayor is even a certified casting instructor through the Federation of Fly Fishers.
His approach in this fishing book is to teach how to spot trout in the water before making a cast, and then knowing what to do to catch the fish.
Fishing Magazine And Book Reviews
Would you like to submit a review? Or check out reviews submitted by others? Cool! Give a negative or positive review about a fishing magazine, book, e-book, or whatever. Read what others have contributed. Rate their stories. Give your own feedback. Go to our fishing magazine and book reviews submission section here.
Find your favorite titles, as well as top rated recommendations, best sellers and hot new releases...