Smallmouth Bass, Late Fall in Harshaw, Wisconsin
by Scott Regan
(Greenville, WI)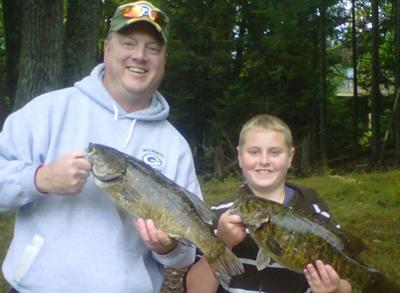 Big Smallmouth Bass - Fall 2011 - Harshaw, Wisconsin
My son and I were fishing late fall up in Harshaw, Wisconsin and fairing pretty well with the smallmouth bass.


We got up early Friday morning and I was throwing a pink skirt #5 Mepps spinner along a lilly pad line when my fish hit. It was 21 1/2 inches long, but only about 3.5 pounds. It looks like an old timer if you ask me.
My son Cameron was so excited for me and told me we had to mount it.
Well, wouldn't you know, the very next morning we go out with Walleye suckers looking for late fall Walleye, Northern Pike and Muskie. The first cast Cam has gets a massive hit right away, and doesn't he bring up a 21 inch 6 pounder and put his old man to shame.
It was a great fishing weekend and we have two fish that will go up on the wall. Great memories we will have as he grows older.
Jason's response:
Hey Scott,
Awesome smallmouth bass! Good job to both you and your son.
Kind of interesting that both fish were nearly exactly the same length, but one weighed just about twice as much as the other. None the less, both of those smallies are quality fish. I think that they'll look great up on your trophy wall.
Tip of the hat to you guys. I'm sure that this fishing trip is just one of the many father and son memories that you two have so far and will continue to build upon in the future.
Looking forward to hearing about more of your fishing adventures soon. Have fun and best of luck out on the water.
Articles related to smallmouth bass that might be of interest:
Smallmouth Bass Fishing