'Ol Skipper
by Ryan
(Jacksonville, FL)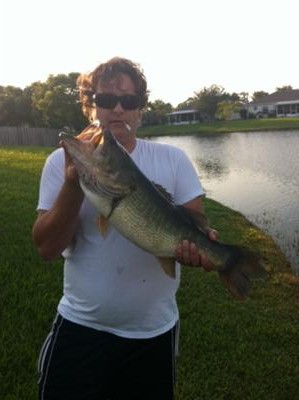 10 Largemouth Bass caught in a lake in Jacksonville
I was fishing out in the hot July sun on a lake I fish just about every day. I spent about an hour out there with not even a bite. I decided I would throw the line out one more time and got a bite that almost broke the rod and I missed it. At that point I was beyond mad, but I cast out one more time and sure enough he hit it again... this time I got him. 10 lbs


Thanks for sharing your largemouth bass picture
Wow! Nice largemouth bass! That just goes to show that it usually pays off to be persistent, huh.
I could definitely understand about you getting upset. There are a couple lakes and ponds that I go to every once in a while... I know the fish are there, I know many of the hot spots, but sometimes the fish just refuse to cooperate and play the chase the lure game. And yeah, the heat doesn't help to smooth over the situation.
Yet, catching a few bass, or even just one real big largemouth bass like that nice looking specimen that you're holding there, always seems to help wipe out the madness.
Thanks for sharing your bass fishing picture and story. Enjoy yourself out on the water
largemouth bass fishing
. Tight lines,
Jason