Largemouth Bass Almost As Big As Me
by Alex D'Amico
(Laconia, NH USA)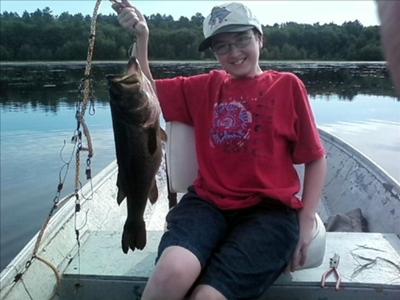 Right after catching the big bass, still on the water.
It was at the end of our fishing trip when I decided to take one more cast into this one open pocket surrounded by plants. As soon as that bait hit the water I saw the bass come up and take it. I was surprised because it didn't explode on it, just took it and went back down.


After a while of fighting the fish, we got it to our boat. As soon as we did, it had dug itself way down in the weeds. We thought we would never get it out. At one point I thought we lost it because I could not feel the fish move. But I decided that I wanted to try to get my lure back, so I reached down with the net to move the weeds out of the way and the fish came with them, so I just scooped him up.
I was so happy as it was the biggest fish I ever caught - an 8 pound largemouth bass.