From Rabbit Fever to Bass Fever
by Donald Kershner
(Hartford, Ky USA)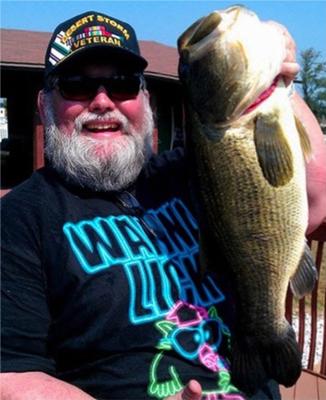 Rabbit fever to bass fever
My name is Donald Kershner, or known to most as Tbone. I live in Hartford, Kentucky.


In mid July I was bit by a tick and contacted rabbit fever. Tularemia (also known as rabbit fever or deerfly fever) is an infectious disease in ticks and rabbits that is caused by a bacterium (Francisella tularensis).
I am in the hospital after surgery to remove the lymph gland infected with Rabbit Fever. They put me in the Community Living Center unit of the Marion, Illinois, VA Hospital to recover from the Rabbit Fever operation. I have been in here for several weeks now healing.
On 9/2/2011, Jim Sanders the recreation therapist ask me if I would like to go fishing. My room mate Walter Darnell had gone the week before and had fun catching some catfish and some small largemouth bass.
So Walter and I decided to go. Walter started out catching the first two fish.
I had been fishing for about an hour when I decided to use a Rat-L-Trap lure. I started to catch a few small largemouth bass.
I finally made a very good cast across the far side of the pond. I saw the water boil. I thought I scared a catfish on the bank. Just as I was about to reel the lure in, "Boom"... This Huge Largemouth bass hit the rattle trap lure.
I was in shock. I yelled to the coordinator, "Jim, I need a net!" He replied, "Is it that big?" I said "YES!!!"
I was using a small pole with light test line. I did not think I could keep this fish on very long. I had to baby this fish so he would not break the line. I
walked back and forth on the dock to tire him out.
Then Jim showed up with the net. He had to reach over the railing and work his hands through the rails to reach down and net this monster. One try, then another. He missed it. The bass tried one last time to swim off. I was able to turn him back towards the net and Jim netted him. He had trouble lifting him up because he was so heavy.
Finally we got this monster on the deck. The first thing I said to Jim was "Can I mount him?" He said, "No, you have to release him, this is a catch and release pond." Awwww, this was the biggest largemouth bass I had ever caught. It measured 28 3/4 inches.
Well, I was glad I brought my cell phone and it had a camera. At least I was able to get this picture of the Monster Largemouth Bass. We had no way to weigh it. So after a few pictures, I let him go for someone else to have a chance at him. This made getting Rabbit fever worth the pain.
I just found out that CLC nurses voted me as Resident of the month. The nurses and staff have taken wonderful care of me. I am looking to be home on the 13th of September, 2011.
This is a link to the Rabbit fever If you would like more info on it..
It is very rare..
http://www.beaglesunlimited.com/rabbit-hunting/tularemia-rabbit-fever
PS.. I caught a 7 plus pound largemouth bass and a big albino catfish from the same pond.. I am back in the hospital having more test run.. Maybe they will let me fish again. LOL
Tbone
Donald Kershner