Freshwater Fishing Books
Welcome to our freshwater fishing books section. We have an excellent selection of titles of some of the best books for freshwater fishing enthusiasts.
We have done an extensive research, so that you don't have to, and picked out a few of our top recommended books about freshwater fishing. Our reviews are designed to help you easily select a fishing book, or two, rather than you wasting your time and money buying a book that absolutely sucks.
These fishing books hold valuable information for beginners and experienced freshwater fishermen to read and learn more about this great sport of angling. You may find some great helpful advice, a variety of fishing tips, techniques, tactics, and some cool tricks of the trade.
I've found that it's always nice to have a few fishing books to keep in my collection of resources. They're there whenever I want to refer to them, and it helps to come up with different and new strategies out on the water.
And if you don't fish yourself, a fishing book can be a nice way to get more of an inside look on this fantastic sport of freshwater fishing that millions of anglers love all around the world. Or perhaps you just might be looking for a fishing gift for a fisherman or woman. Great! A fishing book can be just the ticket to win them over.
Most of the freshwater angling books below may seem to be a little generalized on freshwater fishing as a whole. Don't worry. They are still excellent resourceful guides on the subject matter. However, you can refer to our fishing books and magazines page to find more fish specie specific book reviews and recommended titles.

Recommended Freshwater Fishing Books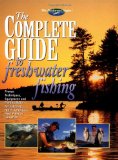 The Complete Guide
to Freshwater Fishing
The Complete Guide to Freshwater Fishing (The Freshwater Angler)
This fishing book was written by a group of enthusiasts as they traveled from Alaska to Mexico and fished with some of the top guides and professional anglers.
over 500 photographs
step-by-step guides
how to techniques
tips from the pros
---
What Fish Don't
Want You to Know
What Fish Don't Want You to Know: An Insider's Guide to Freshwater Fishing
This fishing book was written by an angler with over 40 years of fishing experience. It's packed with...
plenty of illustrations and photos
how to instructions
tips and techniques
common sense advice
some humorous fish stories
The bottom line is that this fishing book covers everything that you would need to know for catching freshwater fish.
---
Basic Freshwater Fishing: Step-By-Step Guide to Tackle and Know-How That Catch the Favorite Fish in Your Area
If you are a beginner freshwater fisherman, then this book may be the perfect one for you. It starts off by letting you know exactly what fishing is. By the end, even the novice angler should be able to pick up a few important tips to have more success fishing.
---
Freshwater Game Fish
of North America
Freshwater Game Fish of North America: An Illustrated Guide
Want to learn about the different types of freshwater fish found in North America? This book provides nice pictures, scientific information of the fish, and many details about each of the different family types, and more.
Fishing Magazine And Book Reviews
Would you like to submit a review? Or check out reviews submitted by others? Cool! Give a negative or positive review about a fishing magazine, book, e-book, or whatever. Read what others have contributed. Rate their stories. Give your own feedback. Go to our fishing magazine and book reviews submission section here.
Find your favorite titles, as well as top rated recommendations, best sellers and hot new releases...