Fly Fishing Books

The Ultimate Resource Guides For Learning The Craft
Fly fishing books are about one of the best ways to read and learn about fly fishing.
A book about fly fishing can be an excellent resource for beginners to learn the art of angling with a fly rod. And they are great for experienced fly fishermen to gain more knowledge to help fine tune their skills.
Fly fishing can be difficult to fully master for many anglers. But, with the help of a few good books on fly fishing, and soaking up as much knowledge about the sport, a fly fishermen can improve their techniques to be a successful fly fishing angler.
So, if you're new to fly fishing or just thinking about getting started, then a good fly fishing book or two would be a superb way to jump into the mix. Even if you have a lot of experience, you should already know that you can never learn enough about the sport.
Besides, reading through books for fly fishing is a perfect way to get motivated to put the waders on and get your fly wet.
We have listed below a few of the top books on fly fishing that we think you may find interesting and informative. There are hundreds upon thousands of fly angling books, which is obviously way too many to list, and so we have selected some top choices for you to select from.
Top 10 Picks Of Fly Fishing Books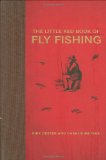 Little Red Book
of Fly Fishing
The Little Red Book of Fly Fishing
This is a nifty pocket guide that gives straight forward expert advice for the basic elements of fly fishing. It has great information and a compelling 240 tips about casting, reading the water, fly selections, and fly presentations.
---
The L.L. Bean Ultimate Book of Fly Fishing (L. L. Bean)
This book covers aspects on fly fishing that will benefit both beginner and novice fly anglers. There are sections that explain in depth and in clear details about fly fishing in general, fly casting tips and techniques, how to tie flies, targeting bass, and much more need to know and helpful tips for successful fly fishing fun.
---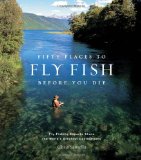 Fifty Places To Fly
Fish Before You Die
Fifty Places To Fly Fish Before You Die
This fly fishing book is packed with beautiful photographs and recommendations of some of the most sought after destinations to cast a fly at from around the world. Each suggested place is recommended by a variety of well known fly fishing enthusiasts. This book also provides information for travel accomodations and the neccessary equipment to use.
---
The Orvis Fly-Fishing Guide, Completely Revised and Updated with Over 400 New Color Photos and Illustrations
This edition has been completely revamped and with many new additions to it. This comprhensive how-to guide has been on the best sellers list and rightfully so. Orvis is amongst the top leaders in the fly fishing industry. This book delivers very informative information for the sport, and is a great resource for any level of a fly fishermen.
---
The Fly-Tying Bible: 100 Deadly Trout and Salmon Flies in Step-by-Step Photographs
This is considered as the best fly tying books by many of those who have had the honor to possess it. It is loaded with more than 600 photos for step-by-step guides to illustrate how to tie 100 of the top fly patterns.
---
Bugwater
Bug Water gives an inside look of bugs and trout throughout their life cycles from spring to winter. This is a great resource to help understand exactly what those little creatures look like, their behavior patterns, and how the fish react to them, especially for those fly fishermen who create their own flies.
---
Essential Trout Flies
You guessed it, this book is all about flies for trout. Well, it may be a little more that just that. It teaches the recognition of flies and how to categorize them. It also describes how to tie the most effective flies, and quite a few variations of them - actually, over 200 variations. You'll also find out how to assemble all the neccessary trout flies in just two fly boxes.
---
Learning from the Water
In Learning From The Water, some of the things that you'll find out about are the important details of insects, successful fly patterns, fly fishing in unfamiliar waters, behavioral habits of trout, and fly presentation tips.

---
Handbook Of Hatches: Introductory Guide to the Foods Trout Eat & the Most Effective Flies to Match Them
This fly fishing book cuts to the chase to teach you how to match the hatch without the absolute need to focus on what type of insect it is, unless or until you want to. It describes selecting the right size, shape and color for presenting the best fly for any given situation to successfully catch fish.
---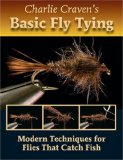 Charlie Craven's
Basic Fly Tying
Charlie Craven's Basic Fly Tying
This fly tying book has 1,000 photos and covers all the fundamentals of getting started with tying nymphs, dry flies and streamers. It lists the neccessary tools, materials, and the techniques for tying a wide variety of flies. It covers the spectrum from the classics that are known to successfully produce fish, to many cool modern day innovative patterns.
Fishing Magazine And Book Reviews
Would you like to submit a review? Or check out reviews submitted by others? Cool! Give a negative or positive review about a fishing magazine, book, e-book, or whatever. Read what others have contributed. Rate their stories. Give your own feedback. Go to our fishing magazine and book reviews submission section here.
Find your favorite titles, as well as top rated recommendations, best sellers and hot new releases...