Share Your Awesome Fishing Tattoos And Get Fresh Ideas For Your Next Tat

Show off your cool fishing tattoos with us!
Are you inked up? Tatted down? Do have any tats of fish? We want to see 'em!
I'm an artist, and just so happen to have an Associates Degree in art. So as you could imagine, I have a deep appreciation for most kinds of art and mediums. However, I don't claim to be a tattoo artist.
Tattoos are high up on my likeability list. And I do have a few tattoos permanently inked on my body. Most of them were tatted on me when I was in the Marine Corps. Unfortunately, none of them are about fishing... yet. ;-)
Picture Gallery Of Fishing Tattoos

I have seen hundreds of sweet looking tattoos on fishermen and fisher women on the internet. The odds might be that I have seen one of your tattoos. If not, I would love to see them. I'm sure there are a lot of other people wanting to see your awesome works of tattoo flash art, too.
Here are just a few of my favorite pictures that I have come across for you to gander at. Click on any of the photos if you would like to check them out in gallery mode.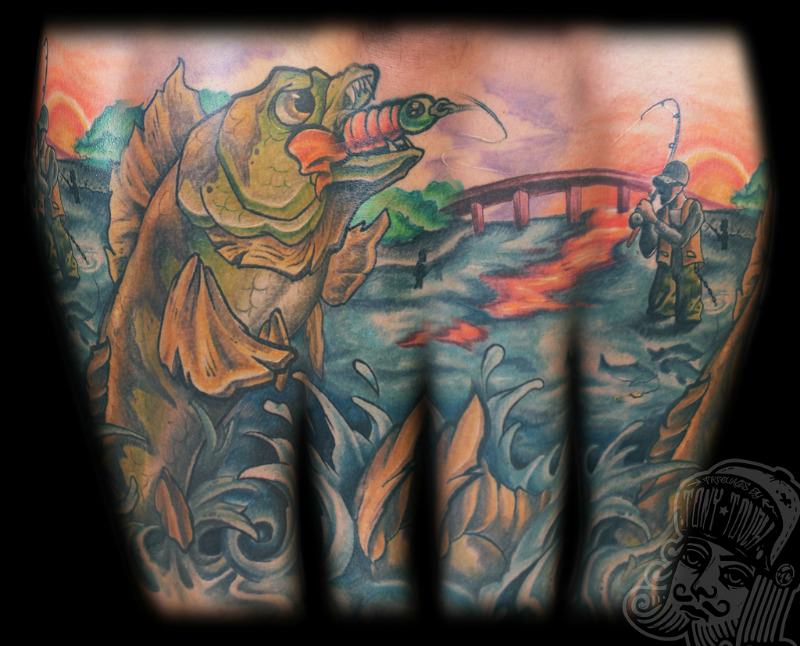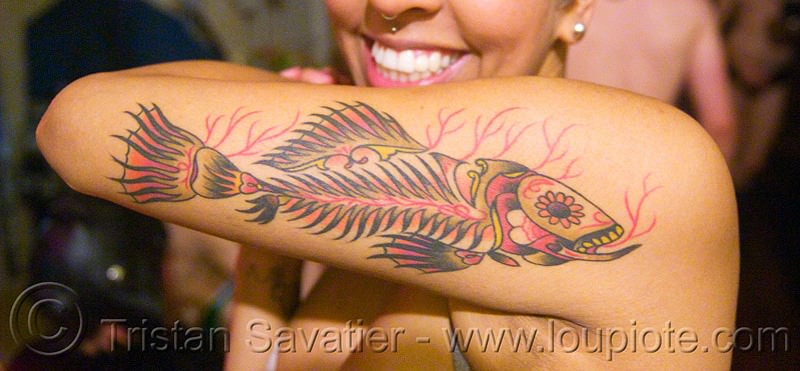 Show Off Your Fishing Ink

This is your chance to show off your body art
with the rest of the world. Seriously. This freshwater fishing website generates thousands upon thousands of visitors every month. And there just so happens to be hundreds of people searching for some nice looking tattoos.
Some folks are wanting to reference other tattoos to get some fresh ideas for their own tats. Other folks just look to find something to draw or design stuff from. And some people are just curious. Which one are you?
If you're a hot fishing babe with some awesome fishing tattoos, or a hard core fisherman with a bad ass piece, then don't hesitate a moment longer and shoot those in to us.
I only have a couple of very simple requests...
Original Photos Only
Original Stories Only
These are very important to me. Your photo and story should not already be published elsewhere on the internet. I will check whether or not it is.
So, go ahead and snap a couple photos of your fishing ink and upload those pictures within the form below. Be sure to tell us a little bit of background about your tattoo also.
By the way, I might be picking out a couple of your pictures and posting them directly onto this page. That's more exposure for you. You'll get your own web page, plus your photo plastered right in front of everybody who visits this page. Besides that, all entries roll through my Blog, to my Twitter followers, and our freshwater fishing fanatics on Facebook.
Ready to show the rest of us how dedicated to fishing you are?
Fishing Tattoos
Do you have a fishing tattoo? Share it!