October/November 2010
Fishing Photo Contest
Congratulations to the winner of the 2010 Fishing Photo Contest.
1st Place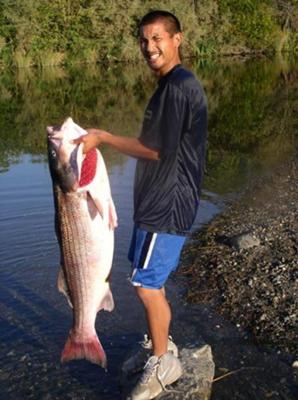 Created My Own Destiny
submitted by Nelson Ocampo
I promised to hand out cash value prizes to the winners after a certain amount of approved entries. Unfortunately, there weren't enough submissions to the contest to fork over the cash.
No worries though, we will be holding more contests in the future. So, be sure to check back periodically.
In the meantime, you can still share your photos on our fishing pictures page.
Fishing Photo Submission Guidelines
Please read the Freshwater Fishing Photo Contest Terms And Conditions for the official rules containing the ever so boring, yet important information on deadlines, requirements, voting and judging, etc. and the what not. By entering the contest, you agree to accept and follow these guidelines.
Only submissions with both a writeup story and photo(s) will be eligible to win.
Each fishing picture and writeup must be original that you, a family member, or friend took a snap shot of, and cannot be copied from another source.
Submit from 1-4 photos per entry form of a child or an adult with a fish, but make sure you choose the coolest ones.
Your writeup should be at least 150 words. Explain when and where you were fishing at, the type of fish you caught, what you were using, how you were fishing it, how fun it was battling the fish, how much you estimate it weighing, if you released it or ate it, or provide any other information you'd like to share. A detailed writeup might increase your chances of winning!
The deadline for entries was midnight of October 31, 2010. The 2010 fishing photo contest is over.
Check Out The Winning Entry