Carolina Rig
Easy "How To" Rigging Guide
The Carolina rig is a great all year round fishing rig, and is fairly simple to learn.
There are quite a few modified variations for this that are used by many freshwater fishing anglers.
This can be considered as an extended version of the Texas rig, and also has the capabilities of being fished with by applying a multitude of different presentations and various techniques.
If you don't feel like putting together your own rigs, or would just like to have a bulk of them already made and ready to go, you'll have the option to buy some from our reliable resources shown near the bottom of this page.

Carolina Rigging Tackle
Lures and Baits Preferred For The Carolina Faithful
A wide selection of soft plastics are most commonly used for these fishing rigs. Other popular soft plastics that are also used include:
leeches
flukes
tubes
grubs
lizards
crawdads
and even snake baits.
Live baits are also another option that many anglers enjoy using with this set up, such as:
nightcrawlers
leeches
minnows
shad
and other types of bait fish.
Hook Options That Perform Best For Carolina Type Rigs

The size of your hooks should match the size of bait that you use. For most cases when using smaller baits, and small hooks to match, the small hooks will be enough to get a good proper hook set in the mouth of the fish. If targeting fish with smaller mouths, then definitely use a smaller hook.

Sinkers To Accommodate Carolina Fishing Rigs
Bullet weights are ideally what is used for the Carolina rig. Use lighter weights to allow for a slower sink rate, and heavier weights to get the bait down faster. And even more heavier weights should be used in fast moving currents in order to hold the bait down in the water column or down at the bottom.

Line Selection For Carolina Fishing Rigs
You can get away with using a heavy pound test fishing line as long as your leader is light and virtually invisible to the fish. I often like to use a heavy flourocarbon main line matched with an 18 inch clear monofilament leader, attached to a barrel swivel. The leader can range from 1 foot to about 3 feet in length. And it also depends on the species of fish to determine the test strength of the line type.

The Carolina Rig Set Up
For demonstration purposes, we are using the following, shown from left to right:
a black ¼ ounce bullet weight
brass noise ticker
red glass bead
barrel swivel
red blood trail offset shank extra wide gap (EWG) 2/0 hook
Zoom watermelon candy colored Baby Brush Hog
braided main line
with a monofilament leader.
Carolina Rigging Accessories
Note: You can use a variety of other types of baits or lures, sinkers, hooks, with or without the noisemakers, etc., as you prefer.

Rigging The Carolina Rig
Step 1: Tie your leader to your hook and to the barrel swivel.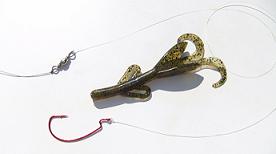 Step 2: Run your sinker, clacker and bead onto your main line and tie it off onto the barrel swivel.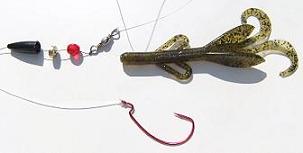 Step 3: To set it up for a weedless style presentation, insert the plastic bait upside down into the hook and push it about a quarter of an inch through the head before allowing the hook point to penetrate through the plastic.

Step 4: Continue to run the head of the bait through up to the eye of the hook.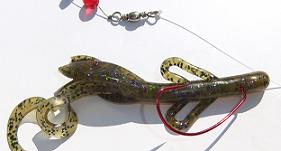 Step 5: Rotate the head of the bait 180° around the eye of the hook.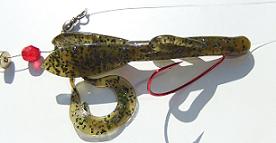 Step 6: Determine where the hook point will end and push it through the plastic.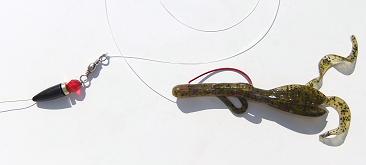 Congratulations, you just figured out how to set up the Carolina Rig!
Have a look at our Texas rig demonstration to gain a better understanding for creating a weedless style hook.

---