Tips On Selecting The Best Fishing Kayak
It's smart to explore your options of finding the best fishing kayak for the money and your needs.
Kayaks are fairly big investments. So, picking the right one at the right price should not be taken lightly. We will find out why in just a moment.
There are different styles of kayaks that are designed for specific levels and activities on the water. But, we'll just focus here on the considerations for choosing the best kayak for fishing, for both saltwater ocean fishing and freshwater fishing.
Bass Pro Shops carries a wide selection of kayaks.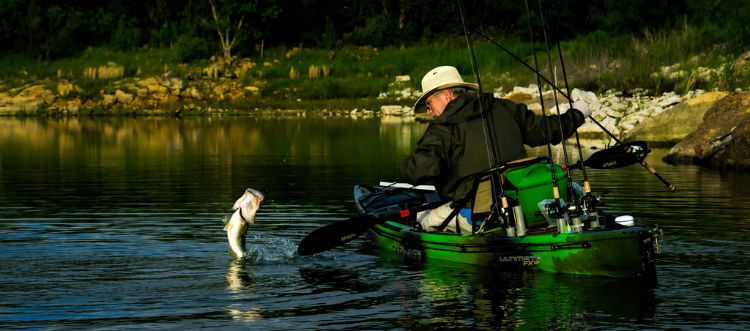 Catching Largemouth Bass While Fishing In A Kayak
How To Choose The Best Fishing Kayak
Looks can be deceiving. Just because a kayak looks cool sitting there on the show room floor, doesn't mean that it's great for what you plan on using it for. There are 5 main things to consider when shopping for a new fishing kayak. In order of importance...
1.) Comfort
Comfort should be the top criteria to have, especially for those longer excursions. For starters, look for a cushioned seat with an arched back rest and plenty of leg room... you don't want to feel fatigued with butt cramps and back pain by the end of your adventure.
2.) Stability
Generally, the wider the kayak is, the more stable it will be. One of the last things that we want to be worrying about is the fear of tipping over, right? With time and experience as you become acquainted with maneuvering around different water conditions in the new kayak you'll get a good feel for balance that's like second nature.
3.) Storage
Because a kayak is so compact, it helps eliminate the urge to carry a ton of needless gear, just the essentials. We still need somewhere to carry the things that we do need to bring along. So be sure that your kayak has adequate storage space to carry your fishing equipment.
4.) Speed
Unless you're always in a rush then I don't see that speed is extremely important to have for a fishing kayak, although it can be a bonus at times. The narrower and longer they are, the faster they will be. Kayaks with excellent pedal and rudder designs also help with slicing through the water.
5.) Transportability
There's no point in purchasing a kayak if you can't even get it to the water. So, be sure that it's light enough for you to lug around, and that you'll be able to safely haul it back and forth with your vehicle. Since you are shopping for a new kayak, I assume that you must already have this one covered.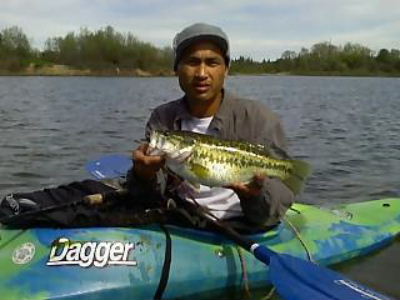 Nailing a "Dagger" of a Big Largemouth Bass from the Fishing Kayak
Styles of Fishing Kayaks
There are two main kinds of kayaks used for fishing... Sit-on-top. Sit inside. Both have advantages. And both have their disadvantages. We'll have a look at both pros and cons to help you decide which will be the best fishing kayak for you to fish with.

Sit Inside Style Kayaks for Fishing
I've found that the sit inside kayaks seem to be more constricting. Some anglers don't seem to mind as much, or they just deal with it.
Although you normally do stay much drier in these, they can collect a lot of water when big waves are crashing into it.
Overall, these are ideal for cold water situations. They even help shield you from the wind.

Sit On Top Kayaks for Fishing
The sit-on-top kayaks allow you to move more freely and maneuver around in various positions. They also usually have more storage compartments that you'll be able to have easy access to.
These won't take on a bunch of water. This is a plus to have in choppy water with big wakes, or even if you happen to flip over.
Personally, I think that the sit on tops are the best fishing kayaks.
Ultimately Buying The Best Fishing Kayak
To find out if your next kayak meets your standards with the requirements listed above, well, you either have to get in for a test drive yourself, and/or take the word from others who have used and reviewed the product.
SeaEagle has a variety of outstanding kayaks and canoes to choose from. They have plenty designed specifically for fishing, which includes their popular inflatable foldaways and motor mounts.
Bass Pro Shops carries a wide selection of kayaks too.