Awesome Striped Bass Fishing Fun
The thrill of striped bass fishing
brings much excitement and reward with catching one of these tough fighting fish.
Don't let the stripers' beauty fool you. These heavy hitters will double over your pole and strip lots of fishing line from your reel as you attempt to land them.
The enjoyment I get from striped bass fishing is off the hook. No pun intended. Well, maybe just a little. I'm sure you get the point.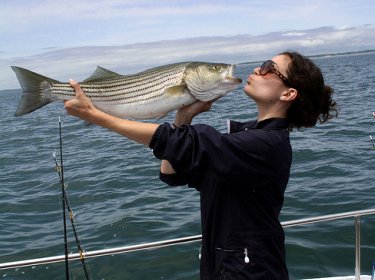 Tips and Techniques for Catching Striped Bass
The size and weight of stripers is partly what makes it so fun to hook into one. They don't have the agility to make numerous leaps and jumps out of the water, like largemouth bass are capable of in an effort to spit the hook. Instead, they bulldog and thrash themselves around as they try to get away.
Selecting Striped Bass Baits and Lures
Their feeding habits and patterns are something to be aware of if you want to be successful in getting after them. They could be feeding one moment, then the bite will just turn off the next. They are always on the move and tend to run in schools. And wherever the bait fish are, expect a pack of stripers not too far behind.
There are quite a few ways to take stripers. But first, what do striped bass eat? The bait fish in the water will obviously be a good tell as to what they are feeding on, which will help determine which lures you should offer. Soaking bait is very common, while casting and trolling is ever so awesome when they bust on your presentations.
Releasing Or Keeping Your Catch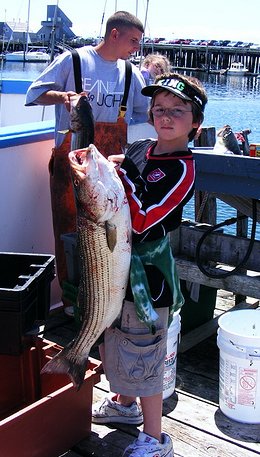 It's always great to practice catch and release, especially the females for reproduction. But it's not a best kept guided secret that striped bass are good eats...
After a nice day out on the water, what better way to reap the rewards of fighting those husky beasts than to feed the crew with your prized catch.
By the way, here's a few striped bass recipes for you to consider using. Just remember to only keep what you are planning on eating.
A while back, I took my two boys fishing for largemouth bass at the river just 4 blocks from our home. We ended up catching a nice striped bass. See more about their fun and exciting freshwater striper fishing adventure that totally caught me off guard.
Good luck on all your striper fishing adventures. Who knows, maybe one of us could catch the next world record striped bass. Anybody could be lucky enough to hook into a world class striper, but your odds become much greater when you know what you're doing, right?
Like FishingLoft.com?
↑ TOP OF PAGE