Smallmouth Bass Pictures
Share Your Freshwater Fishing Photos
Share your freshwater fishing smallie flicks here. Upload your smallmouth bass pictures, check out other bronzeback pics, rate and comment on any of the ones you want to.
Do have pictures of smallmouth bass?
A story about a cool fishing trip?
Offer tips, advice, reach out to notify the fishing community about an upcoming event, or anything on your mind.
We want to hear about your fun, or even not so fun, fishing experiences out on the water!
Ready? Let's get this party started! It's really easy to do. Use the form below to begin.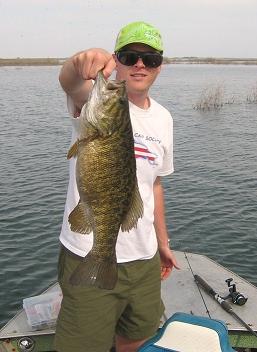 Awesome Trophy Sized Smallmouth Bass

Photo attributed to jseatle at Flickr
Have Any Smallmouth Bass Fishing Pictures?
Share them here with the rest of the world! It will be turned into your very own web page! Brag and boast as much as you would like. And show it off to your fishing buddies.

To get started, enter a cool descriptive title below, then click on the link to continue with your submission process.
What Other Visitors Have Contributed
Click below to see contributions from other visitors to this page...

Pictures of Smallmouth Bass Caught on Fishing Lures and Bait

Caught this 19.5 inch Smallmouth Bass slow drifting a Yamamoto Hula Grub in about 20 feet of water. Response to your Smallmouth Bass caught on a Yamamoto …
Live Minnow Smallmouth Bass

Fishing on the Susquehanna River (Perryville, MD) in the fall for smallmouth bass can sometimes put doubts into your head about if a big one even exists …
Smallmouth below Barkley Dam, Ky

To be honest.... I was striper fishing in November when I started catching smallmouth bass off of the rocks. Beautiful fish. Hard fighting and good eating.... …
Smallmouth Bass, Late Fall in Harshaw, Wisconsin Not rated yet
My son and I were fishing late fall up in Harshaw, Wisconsin and fairing pretty well with the smallmouth bass. We got up early Friday morning and I …
Monster Smallmouth Caught on Micro-Gear Not rated yet
It was a cold October day when I hooked up to this beast of a smallmouth. It was actually too big to even make a full jump out of the water, but it did …
Like FishingLoft.com?
↑ TOP OF PAGE