Pictures Of Catfish
Gallery Of Whiskerfish Photos
Check out these awesome pictures of catfish!
These are just a few cool whiskerfish flicks to help get you motivated for going back out on the water for some fun freshwater fishing.
When your done looking at these pics, why not head over to our catfish pictures page and upload your own memorable photos of your catch, and share your story about your catfishing adventure. More about this below following these proud pics.
Catfish lined up on the table waiting to be butchered, I mean filleted.

Catfish Photo thanks to Evan Keller - evankeller on Flickr
Picture of a boy with a nice Catfish Photo courtesy of peggydavis66
"Joy kissing the catfish." Photo courtesy of Bo Gordy-Smith - PBoGS on Flickr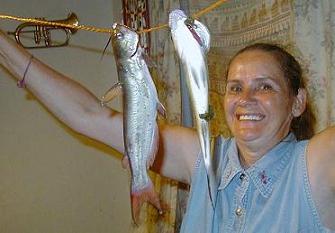 A Catfish and Largemouth Bass which was steamed with Dijon mustard.

Catfish Picture thanks to John - guano on Flickr
Picture Of A Big Catfish Photo courtesy of Steve Perez
School Of 22 Catfish Photo courtesy of Andy Melton - trekkyandy on Flickr
Do you have any sweet photos of catfish? Give us your best shot! Send them in to us using the form on our Catfish Pictures page.
Or go to our fishing pictures page if you have other pictures of freshwater fishing or even saltwater fish.
↑ TOP OF PAGE